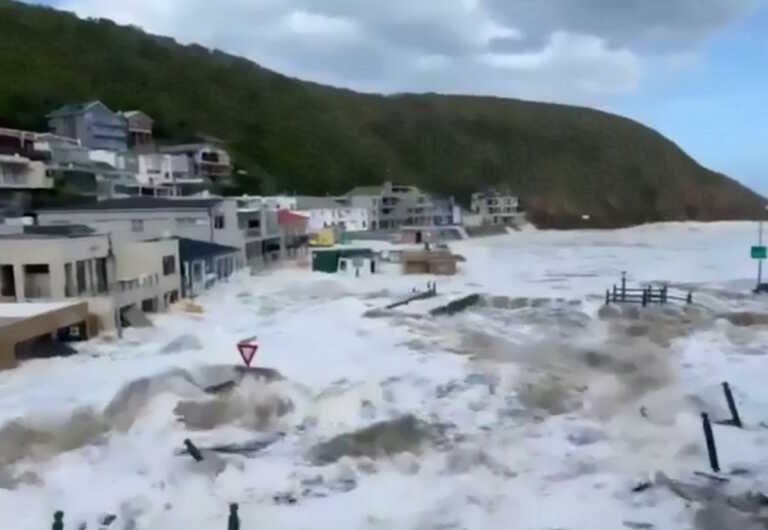 Shocking footage has emerged of the huge waves that hit the coast of South Africa at the weekend, killing two people and injuring seven others.
According to international media, the large waves are a result of the so-called "spring tide". South Africa's weather service said waves as high as 9.5 meters were recorded, with some of the huge waves damaging coastal buildings and sweeping away cars.
During the same South African service announced that 50% of the country's coastline was affected by sea waves.
Among the victims was a 93-year-old woman who was injured when she was swept away by a wave that swept through a parking lot in the Wilderness area on the country's south coast.
Massive waves wrecked havoc across the southern coast of South Africa (video from Harold's bay) yesterday as a result of spring high tide combining with storm surge – damage in many local coastline towns!

LSC/The weather Hooligan pic.twitter.com/zF7HVYj5tS

— Live Storm Chasers (@LiveStormChaser) September 17, 2023
However, the National Marine Rescue Institute said she may have died of natural causes after she was taken to hospital.
Cape Town – Gordon's Bay: Freak waves around the Cape coastline pic.twitter.com/TEqZkvOfIn

— TrafficSA (@TrafficSA) September 16, 2023
Videos posted by netizens on Twitter showed huge waves breaking railings, bridges and flooding roads.
Shocking moment as a massive wave crashed into a South African beach restaurant, leaving several injured. pic.twitter.com/bT9K7vnEDe

— AccuWeather (@accuweather) September 18, 2023
The article Shocking images with 9 meter waves "swallowing" coasts of South Africa – 2 dead and 7 injured was published in Fourals.com.