Phil Spencer, head of Microsoft's video games division, told colleagues in 2020 that he sees the
Nintendo
as one of the main targets for takeover. At least that's what he discussed via emails with Microsoft's executive vice president and head of commercial, Takeshi Numoto. While there was talk of a TikTok acquisition, Numoto asked why Microsoft wasn't targeting a company like Nintendo instead. Spencer replied that that was exactly what he wanted.
"Takeshi, I totally agree that Nintendo is THE main asset in the gaming space, and today gaming is our most likely path to build a relationship with consumers," Spencer replied.
"I've had a lot of conversations (with Nintendo) about working more closely, and I feel like if an American company would have the opportunity to do something with Nintendo, we're probably in the best position."
"The unfortunate (or fortunate for Nintendo) situation is that Nintendo is sitting on a large pile of cash, having a (Board of Directors) that until recently has not pushed for further growth in market growth or stock appreciation."
Spencer added that former Microsoft board member Mason Morfit, president of ValueAct, has been buying a lot of Nintendo stock, and that could create opportunities for Microsoft.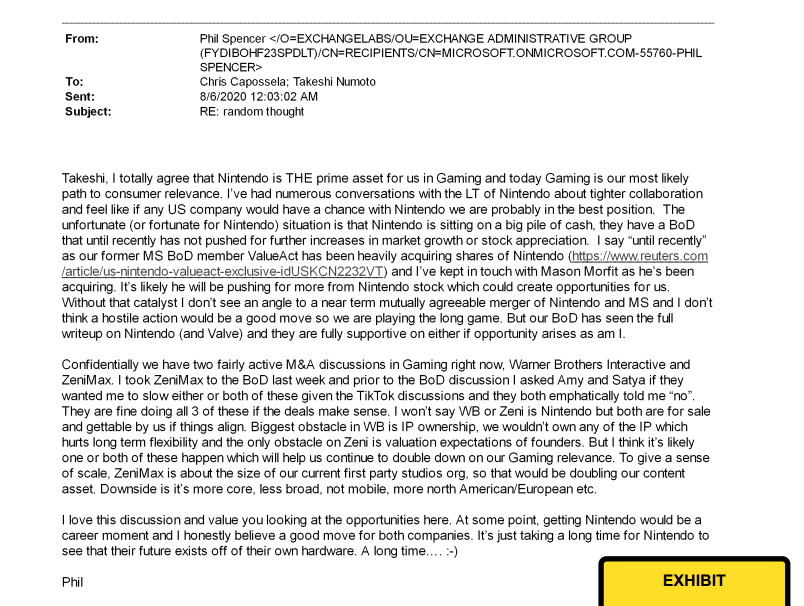 The executive emphasized his belief that Nintendo's future "exists because of its own hardware," but claimed that it took "a long time" for the company to understand that.
"Without that catalyst I don't see room for a near-term mutually agreeable merger between Nintendo and Microsoft, and I don't think an aggressive move would be a good move, so we're playing the long-term game. But (our Board) knows Nintendo's prospects (and Valve) and fully supports both moves should the opportunity arise, as do I."
Spencer concluded: "Acquiring Nintendo would be a career milestone and I honestly think a good move for both companies. It just takes a long time for Nintendo to see that its future lies beyond its own hardware. A long time."
The conversation came about a year and a half before Microsoft announced its intention to acquire Activision Blizzard.