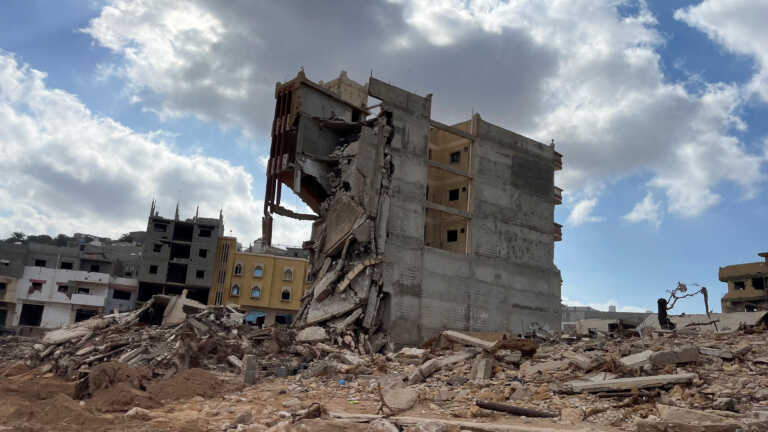 More than 100 Syrians, including families, were killed in the floods that destroyed the city of Derna, in eastern Libya, as the Syrian Observatory for Human Rights announced today.
According to the director of the Observatory, Rami Abdel Rahman, the total number of dead in Libya is 112. However, the fate of at least 100 people is still unknown.
After 2011, thousands of Syrians fled their country due to the civil war and many fled to Libya, which was also unstable and had become an "exit" base for tens of thousands of migrants seeking to reach Europe by sea.
"I lost two nephews, their wives and six of their children," including a six-month-old baby, said Khaled Ali, a Syrian worker, who spoke to AFP by phone from Derna. His nephews had initially fled to Lebanon but left for Libya after Lebanon's economic collapse in late 2019.
"We escaped one crisis and went to another (…) it's our fate," said the 37-year-old man who hails from Deraa province, the stronghold of the 2011 uprising against the Syrian regime.
The families of the missing Syrians have posted their photos on Facebook. On this page Ali located his dead nephews.
Ibrahim Kalaaji, 46, lost eight members of his family, including his brother, Mohammed. "A doctor informed us that my brother and his wife were killed. There is no trace of my other relatives," he said.
His other brother, Sandy, escaped. He was swept away by the waters from the roof of his house but managed to cling to the minaret of a mosque. But he lost everything, even his identity. "He has no past, no present, no future anymore," Kalaaji said.
The article More than Syrians drowned in Derna in Libya and as many are missing was published in Fourals.com.