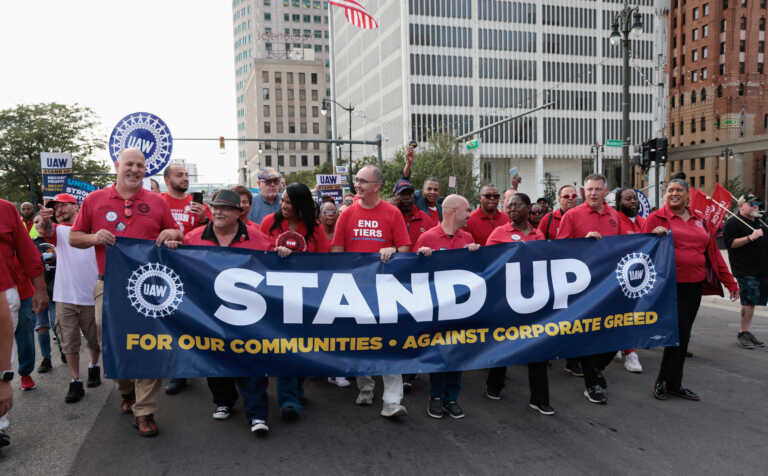 The big strike of the United Auto Workers union continues for the 3rd day at the three major car factories in Detroit.
On Saturday, United Auto Workers (UAW) and Ford negotiators held "productive talks" over a new contract, the union said, while Stellantis, the parent company of Chrysler, said it had raised its contract offer. to end the strike in Detroit.
About 12,700 UAW workers are continuing to strike as part of a coordinated labor mobilization targeting three U.S. assembly plants – one each of the Detroit Three – after their previous four-year labor contracts expired at 11:59 a.m. p.m. (local time) on Thursday.
Union negotiators and representatives from General Motors, Ford and Stellantis resumed talks Saturday, a day after the UAW began the most ambitious strike action in American industry in decades.
Stellantis announced that talks will resume tomorrow, Monday, with some subcommittee negotiations scheduled to take place today at General Motors. UAW President Sean Fein is scheduled to appear on two national television news shows today.
What the companies recommend
Stellantis announced yesterday, Saturday, that it had increased its offer by proposing increases of 20% under a four-and-a-half-year contract, which includes an immediate 10% increase. This proposal is consistent with proposals made by both GM and Ford.
The proposals are about half the 40 percent wage increase the UAW is seeking through 2027, including an immediate 20 percent raise.
The strikes have halted production at three plants in Michigan, Ohio and Missouri that make the Ford Bronco, Jeep Wrangler and Chevrolet Colorado, as well as other popular models.
On Friday, Ford announced it was indefinitely laying off 600 workers at its Michigan plant because of the impact of the strike at that plant, which makes the Bronco, and GM told about 2,000 workers at a Kansas plant that their plant will likely be closed tomorrow, Monday, or the day after tomorrow, Tuesday, due to a parts shortage due to the strike at the GM plant in Missouri.
In addition to higher wages, the UAW is calling for a shorter work week, reinstatement of pension benefits and stronger job security as automakers turn to electric vehicles.
The article Third day of strikes at Detroit auto plants – What companies are proposing to workers was published in Fourals.com.