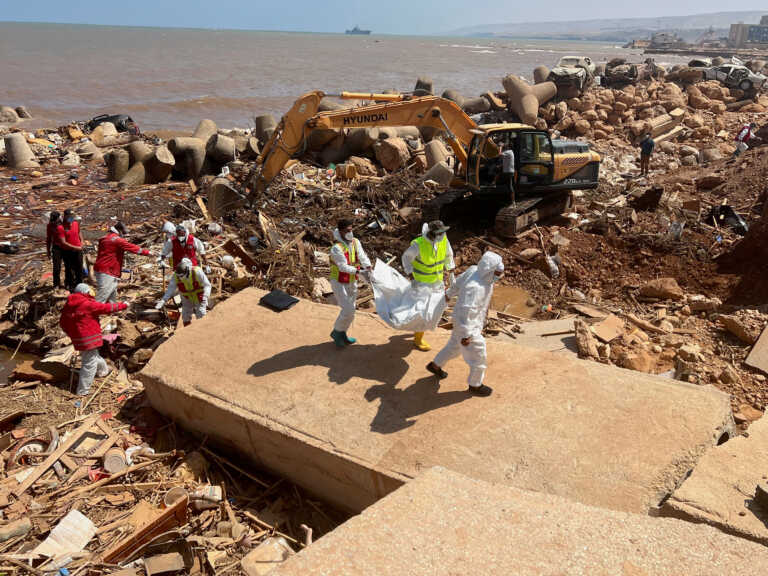 There is no end to the drama in Libya with the dead from the floods constantly increasing.
In particular, a group of rescuers from Malta found hundreds of bodies yesterday, Friday, on a beach in Derna, Libya, which was affected by floods, the Civil Protection Service of Malta announced today.
"It was probably around 400, but it's hard to say," Natalino Bezina, head of the Maltese team, told the Times of Malta newspaper.
Malta on Wednesday deployed a team of 72 rescuers from the army and civil protection service.
The gruesome discovery was made by a team of four, who initially found seven bodies, including those of three children, in a cave by the sea.
The bodies are believed to have been swept out to sea by flooding caused when heavy rains from Storm Daniel caused two dams to collapse, sweeping away a quarter of the coastal town.
Bezina told Maltese media that a small team from the Civil Protection Service arrived at the cave, which was half covered by water, and found bodies inside.
As the search continued, Libyan boats arrived, also searching for victims and survivors. They then came to a small bay that was littered with debris and hundreds of corpses.
The article Drama without end in Libya – Rescuers from Malta found hundreds of bodies on a beach in Derna was published in Fourals.com.