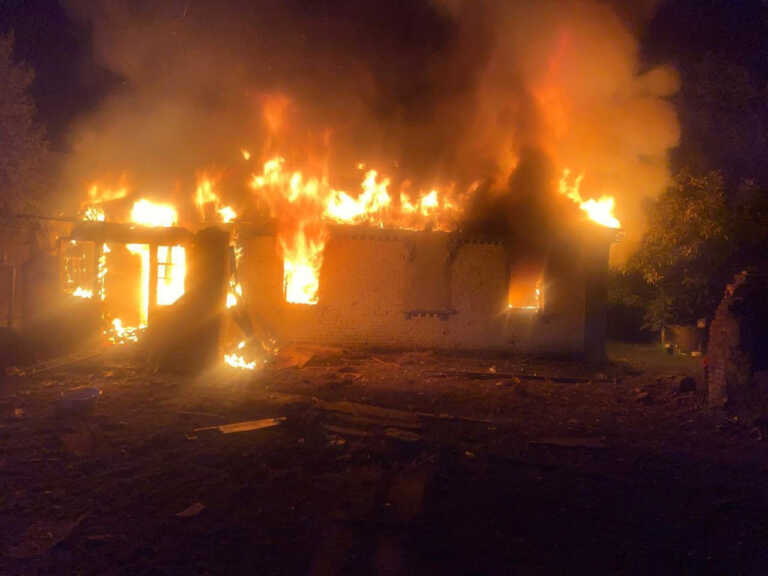 Russia received a new strong blow from Ukraine today (30.08.2023). It was one of the broadest attacks of Kiev's campaign to turn the tables on Moscow.
Drones of Ukraine hit targets at least six areas deep inside Russia, including an airport where Mrthey overturned military transport planes.
The attacks, according to Russian officials, were carried out on targets in the regions Pskov, Bryansk, Kaluga, Orlov, Ryazan and Moscow. The Russian Foreign Ministry said the attacks "will not go unpunished" and that the drones could not have reached so far into Russian territory without Western help.
In northern Russia, more than 600 kilometers from Ukraine, a huge fire broke out at a military airport in the city of Pskov, where they are based elite paratrooper units. The Tass news agency reported that at least four giant Il-76 transport aircraft were damaged, two of which "went up in flames".
The governor of Pskov uploaded a video on Telegram showing a huge fire with sirens and an explosion at the airbase. Other videos showed anti-aircraft systems in action around the city, which is just 32 kilometers east of Russia's border with NATO member Estonia.
Footage from the Ukrainian Drone Attack last night on Pskov Airport clearly showing a Il-76 Transport Aircraft with the Russian Air Force burning while parked in a Revetment near the Runway. pic.twitter.com/cRljo5ODKM

— OSINTdefender (@sentdefender) August 30, 2023
RUSSIA| #Pskov: the city, which is home to one of the largest air bases in #Russiawas a successful hit by Ukrainian #drone attacks which were able to hit its military airport. Close to the Estonian-Russian border, approximately 600km from Ukraine -Russia legal borders.. 1/2 pic.twitter.com/21TTgRLJhH

— Nanana365 (@nanana365media) August 30, 2023
Moscow said it had repelled all attacks against Russia. Russia routinely describes all Ukrainian drone attacks as unsuccessful, regardless of the damage caused on the ground.
Kremlin spokesman Dmitry Peskov said Russia was investigating where the drones were launched to prevent further strikes. The president Vladimir Putin was immediately informedas would happen in any such "massive attack," Peskov said.
Kiev confirmed that the Russian aircraft were destroyed in Pskov, without commenting on the nature of the incident. It generally does not comment on strikes on territory inside Russia, although it says it has the right to strike military targets.
"Yes, four IL-76 transport aircraft were destroyed in Pskov at an airport, they cannot be repaired. Also, many more of them (the aircraft) have been damaged, but the information is being verified," Andrii Yusov, a spokesman for Ukraine's GUR military service, told Reuters.
#Ukraine's military intelligence confirm "four IL-76 transport planes were destroyed" at Pskov military airfield, 600km north of + "several other (aircraft) damaged." Video footage of planes burning & large plumes of smoke & exploding ammo indicate airfield was hit hard. pic.twitter.com/IE3JinRvqn

— Glasnost Gone (@GlasnostGone) August 30, 2023
Ukraine's Western allies have generally barred Ukraine from using weapons they supply it to attack Russia, but say Kiev has the right to carry out such attacks with its own weapons.
Among other attacks on Russia, Moscow says Ukrainian drones attempted to attack the TV tower in the Bryansk regionbut no casualties were reported.
Moscow also announced that its aircraft were destroyed four Ukrainian high-speed boats carrying up to 50 paratroopers in the Black Sea and that its forces repelled attacks by enemy drones. Reuters could not independently confirm this information.
The attacks coincided with Russia's most serious air strikes on the Ukrainian capital in months. Authorities in Kiev said at least two people were killed as debris from intercepted missiles fell in four places.
Reuters captured footage showing a fireball falling from the night sky near a supermarket, then setting off a huge explosion that lit up nearby apartment buildings. Moscow said it hit command and intelligence targets.
Attacks against Russia in recent weeks, including repeated drone strikes in central Moscow, have brought the war home for the first time to many Russians, even as Ukrainians have lived for the past year and a half under constant threat from Russian airstrikes.
"As long as Putin remains president, the war will continue. It is leading Russia deeper and deeper into the abyss of chaos," Mykhailo Podoliak, senior adviser to Ukrainian President Volodymyr Zelensky, wrote on X (via Twitter).
Moscow has been relentlessly pounding Ukrainian cities with long-range missiles and drone strikes throughout the war. Thousands of Ukrainian civilians have been killed.
Ukraine said its air defenses shot down 28 Russian missiles and 15 of the 16 drones launched overnight.
"Kiev has experienced such a strong attack since the spring. The enemy launched a massive, combined attack using drones and missiles," Serhii Popko, head of the city's military administration, told Telegram.
Ukrainian forces have been continuing the summer offensive for almost three months. They have yet to break through Russia's heavily mined and fortified defense line, although they said last week they had finally penetrated the first main line of defense.
The article Drones of Ukraine "hit" a Russian airport and destroyed military transport planes was published in Fourals.com.