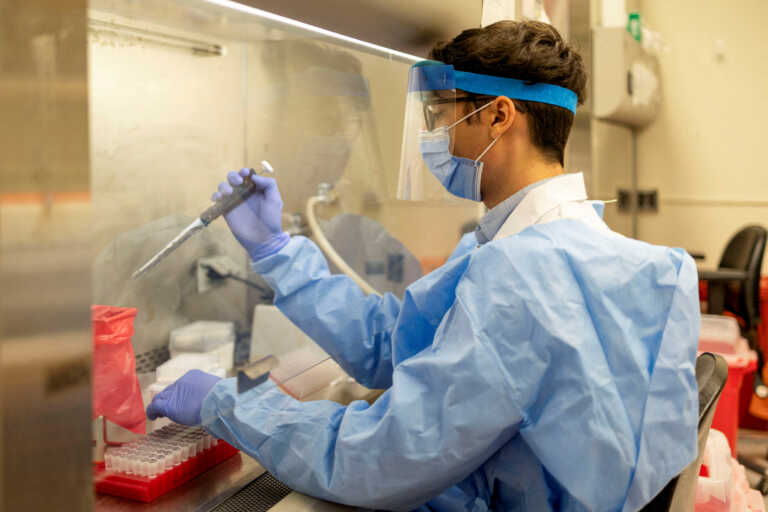 Scientists and health authorities around the world are racing to understand the new variant of the coronavirus, BA.2.86, which has been named "Pirola" and presents extremely important mutations, having already been detected in all… corners of the Earth.
The new BA.2.86 variant of the coronavirus it seems capable of causing a new flare-up in the fallsimilar to that of the Omicron variant that started in late November to early December 2021. Pirola has over 30 mutations in its protein spikes, which help the virus "stick" to cells and infect them.
That's why experts are intensively studying BA.2.86's behavior because it may be able to more easily evade current vaccines and not be covered by the soon-to-be-approved doses of the coronavirus vaccine for next year October.
"It's drastically different" from the dominant variants now circulating, explains CDC scientific advisor and author of the newsletter "Your Local Epidemiologist," Caitlin Zetellina.
What does her name mean – How many cases have been identified
A group of scientists on social media, who give names to the remarkable variants and sub-variants of the coronavirus, gave the name Pirola. Pirola is a genus of evergreen herbaceous plants in the ericaceae family.
At least 24 cases of the BA.2.86 variant of the coronavirus have been detected on the planet, most of which in Denmark. In more detail, according to the update of the World Health Organization on August 24 and the data available in the global GISAID database, the cases that have been detected are:
10 at Denmark,
4 in Sweden,
3 on USA,
2 in South Africa,
2 in Portugal,
1 in Israel,
1 in Britain
and 1 in Canada.
The case in Canada is also the last one detected – so far – worldwide, as reported by Reuters. This is a man in the British Columbia area who did not travel out of state.
BA.2.86 cases nearly doubled today:

– 6 new cases in Denmark
– First 4 cases in Sweden
– 1st case in Canada
– 1st detection in New York pic.twitter.com/9C58hDJvpw

— BNO News (@BNOFeed) August 30, 2023
How the new variant may have arisen
Everyone who patched the BA.2.86 variant had not traveled recently, suggesting that the transmission occurred within the community. It was also detected in the sewage of New York and in Switzerland and Thailand. Sure, it's still early to say with certainty how contagious it is and whether it will spread like the other variants of the coronavirus, while Eris is already "launching"..
JUST IN: New coronavirus variant BA.2.86 found in the wastewater of New York City

— The Spectator Index (@spectatorindex) August 29, 2023
Dr. Francois Ballou, Professor of Genetics at University College London (UCL), characterized the BA.2.86 variant as "the most impressive strain" that the world has seen since the emergence of the Omicron strain.
"The new variant created by the coronavirus probably acquired its mutations in an immunocompromised patient. The most likely scenario is that this patient's infection was long-standing. It may have lasted a year. Then the mutated coronavirus spread back into the community," he explained.
"It seems to have started to spread in an area of ​​the world with poor epidemiological surveillance. Now it is "exported" to other countries", he added. But he was quick to clarify that "at this stage, nothing is known about its transmissibility and virulence".
What do we know so far about the BA.2.86 #COVID19 variant under monitoring? Dr @mvankerkhove explains. pic.twitter.com/PWZd4l29rA

— World Health Organization (WHO) (@WHO) August 29, 2023
What is certain, according to virologist and professor at the Fred Hutchinson Cancer Center in Seattle, Jesse Bloom, is that its transmission is likely to be much greater than we know to date, because multiple sequences of the variant have been identified in different countries.
University of North Carolina epidemiology professor Justin Lesler notes, however, that even if the BA.2.86 variant does not spread widely, "it's an important reminder that very different strains can appear out of nowhere."
The "hopeful" messages
Caitlin Zetellina hypothesizes that if Pirola spreads widely, then it will be able to escape the antibodies we've made from the vaccine doses and the times we've been infected with the coronavirus, but it won't be able to escape the T-cells.
That is, infection with the BA.2.86 variant is probably easy but will not be able to cause serious diseaseas T-cells are the second line of defense of our immune system.
Another hopeful sign is that this variant may not be multiplying rapidly, because the places where it has already been detected have not seen increases in cases. "But that doesn't mean it can't mutate to be able to spread rapidly at some point," notes Professor Lesler.
Scientists say that treatments such as antivirals they will still remain effective even with such a highly mutated virus because they target a different part of the virus, not the spike.
The rapid test that are often used to test for Covid-19 at home should also be able to detect the new variant, CDC centers announced last week.
"We don't want to sound the alarm about a variant that is just as likely to disappear as it is to become the next big thing," says Johns Hopkins Bloomberg School of Public Health professor of epidemiology David Dowdy.
"If we did this for every variant, we'd be sounding the alarm every day," he notes…
With information from the Wall Street Journal and CBS
The article Road race from scientists to the new BA.2.86 variant of the coronavirus – What we know about Pirola was published in Fourals.com.