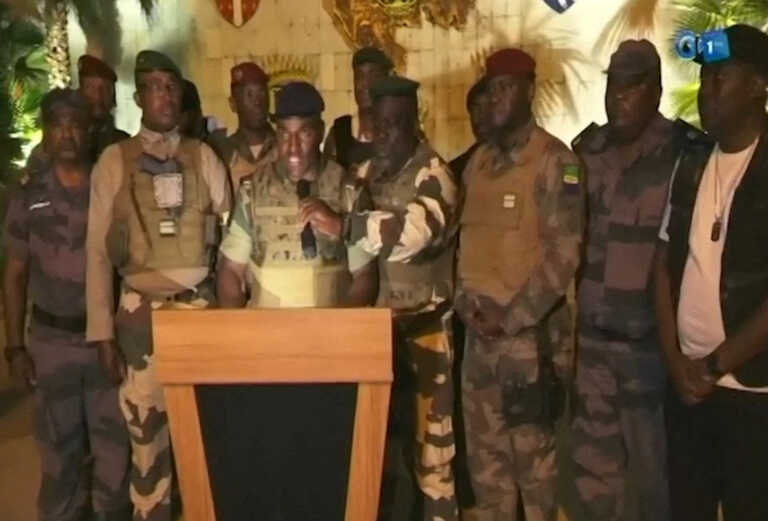 There is concern in the EU about the coup in Gabon, and defense ministers will discuss developments at their planned meeting in Toledo, EU Josep Borrell said today.
Borel said that noting that if it is confirmed that a coup has taken place in Gabon, it will be an event that will cause more instability in the region.
"If this is confirmed, it will be another military coup that increases instability in the whole region," Borrell said, speaking at a meeting of EU defense ministers in Toledo.
A group of high-ranking officers from Gabon's armed forces appeared on state television early this morning and announced they had seized power, after the country's electoral commission announced that President Ali Bongo had secured a third term as president.
"France is monitoring the situation in Gabon with the utmost attention," French Prime Minister Elizabeth Bourne said at the same time today.
Addressing French ambassadors gathered in Paris for their annual meeting, Bourne listed several recent crises facing French diplomacy "and henceforth the situation in Gabon which we are following with the utmost attention".
"Blow" to the mining giant Emaret
French mining group Eramet, the world's largest producer of high-grade manganese ore thanks to its Moanda mine in Gabon, announced today that it was suspending all operations in the country following the overnight events, which sent its shares tumbling. by 18%.
"Following the latest events," the group has "suspended" its operations in Gabon and is "monitoring" the situation to "protect the safety of (its) staff and the integrity of (its) facilities," the group said in a statement. at AFP.
Eramet employs approximately 8,000 people in Gabon, the majority of whom are nationals.
China also called on "the parties involved" in Gabon to "guarantee the safety" of President Ali Bongo, after the military coup in the oil-rich African country.
"China is closely monitoring the development of the situation in Gabon and calls on the parties involved to act in the interest of the Gabonese people for the immediate return to normalcy, as well as to guarantee the personal safety of Ali Bongo," the spokesman said. of Chinese diplomacy Wang Wenbin.a
The article Concern in the EU about the coup in Gabon – The mine of the French mining "giant" Eramet was closed was published in Fourals.com.