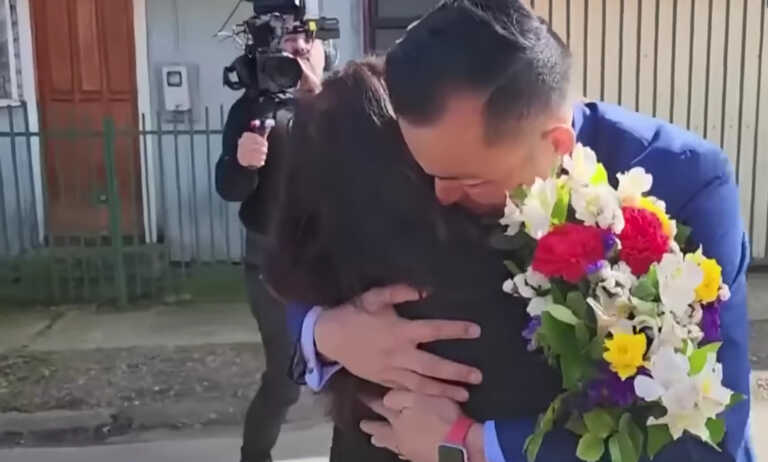 A 42-year-old lawyer in Chile met his biological mother for the first time since he was kidnapped as a baby by agents of Augusto Pinochet.
"She didn't know about me, they took me as soon as I was born, they told her I was dead," Jimmy Lippert Theiden said in a video before meeting his mother in the Chilean capital.
"We never held each other, never hugged," he added.
After walking down the street where she lives, in Valdivia, 740 kilometers south of Chile's capital, Santiago, with flowers in his hands and tears in his eyes, Lippert Theiden took his mother, Maria Angelica Gonzalez, in his arms.
He traveled to Chile with his wife and their two daughters, who also met their grandmother, as he did his mother, for the first time.
He was able to find her thanks to DNA tests, research on the site MyHeritage.com and the work of Nos Buscamos, a non-governmental organization that tries to reunite families that had been separated mainly during the junta.
Thousands of people disappeared during the years of General Pinochet's dictatorship.
The founder of this NGO, Constanza del Rio, created it because she was unable to find information about her own biological family.
To date, Nos Buscamos says it has managed to find and connect 400 people who had lost their loved ones.
This "is one of hundreds, if not thousands, of cases of infant trafficking during the dictatorship, and even after democracy was restored," del Rio said. "These children were declared dead and sold to foreigners for $10 to $15,000," he added.
The article 42-year-old who had a baby kidnapped by Pinochet reunited with his mother – "Melted" in his arms was published in Fourals.com.