04:22 PM


Sunday 05 February 2023

Books – Muhammad Nassar:
Statistics of the Ministry of Justice on domestic violence cases during 2021/2022 showed that about 9,538 domestic violence cases were received, 89.5% of which were filed by wives.
The statistical statement on domestic violence cases for the years 2021/2022 received from the competent prosecution offices indicated that the largest number of cases are cases filed by the wife against the husband.
The number of cases filed by the husband against the wife and the cases filed by the children decreased at the level of all courts.
There are 9,538 domestic violence cases nationwide, of which 8,529 are filed by the wife, at a rate of 89.5%, of which 518 are filed by the husband, at a rate of 5.4%, and the remaining 491 are filed by children, at a rate of 5.1%.
The highest percentage of cases in total came in the South Zagazig Court, with 2459 cases at a rate of 25.8%, followed by Helwan Court with 1748 cases at a rate of 18.3%, and the two courts are the highest in the number of cases of wives against husbands, and most of Upper Egypt courts are devoid of domestic violence cases, with the exception of the governorates Beni Suef, Assiut and Qena, respectively.
Domestic violence cases have also been absent from the courts of some border governorates, such as North Sinai, which may be explained by the predominance of Bedouin customs and traditions and adherence to them in managing the relationship within the family.
This came in a report reviewed by the Senate by a joint committee of the Human Rights and Social Solidarity Committee and the offices of the Constitutional and Legislative Affairs Committees, Culture, Tourism, Antiquities and Media, and Religious Affairs and Endowments, on the issue of the phenomenon of domestic violence – causes, effects and ways of confrontation.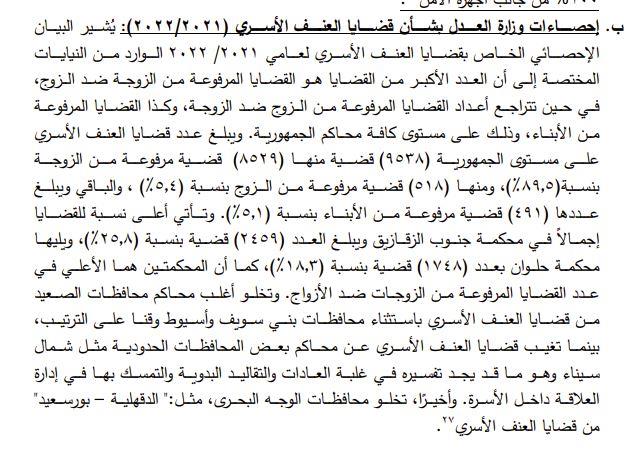 Read also:
The National Social Research Institute: 26.8% of marital disputes are due to material matters
Solidarity Minister: Poverty and drugs are the main cause of domestic violence
Al-Qabbaj in front of the "Sheikhs": We are expanding the file of economic empowerment to confront domestic violence
A kind of human trafficking.. The Minister of Solidarity warns against "Sunnah marriage"