2K announced that the
WWE 2K23
will be released for consoles and PC on March 17, 2023. Those who purchase one of the premium editions will gain access to the game three days earlier. John Cena will be on the cover of the Standard Edition, Cross-Gen Edition, Deluxe Edition and Icon Edition. If you pre-order you will unlock Bad Bunny.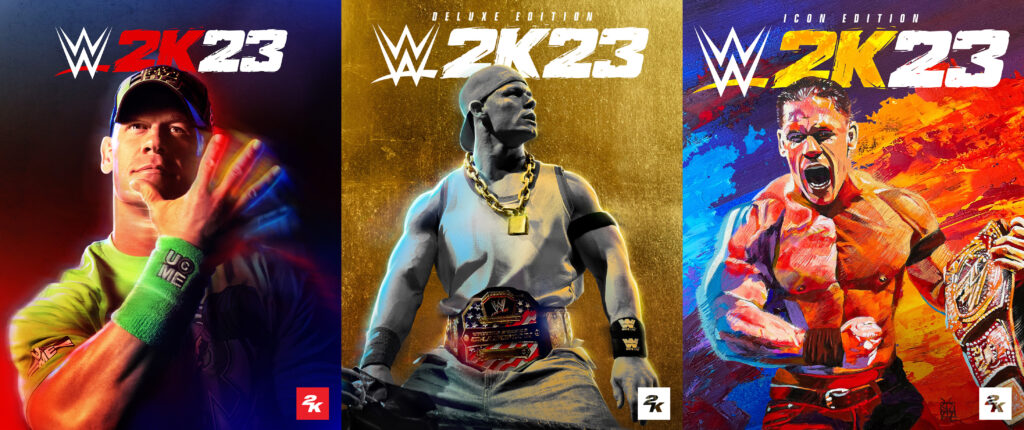 According to 2K, the Showcase will be dedicated to John Cena, to commemorate his 20 year career on the show. Also worth mentioning is the WarGames mode, with 3v3 and 4v4 matches in the unique WarGames setting consisting of two rings side by side inside a steel cage. Other new features are online multiplayer for MyFaction and an improved MyGM mode, with new show options and new selectable GMs.
Each edition of WWE 2K23 will offer the following:
– Standard Edition: Will include the game
– Cross-Gen Edition: Will include the game for new and previous generation consoles.
– Deluxe Edition: Will include the Season Pass with five post-launch DLC packs, MyRISE Mega-Boost and SuperCharger, Ruby John Cena MyFACTION Evo Card, Gold Edge MyFACTION Card, Emerald Bianca Belair MyFACTION Card, Gold Asuka MyFACTION Card, and three Basic Premium Launch MyFACTION Card Packs
– Icon Edition: It will include everything from the Deluxe Edition, plus the Ruthless Aggression pack which contains a skin for John Cena as well as "Leviathan" Batista, Brock Lesnar and Randy Orton as they were in their youth, the John Cena Legacy Championship and the WrestleMania 22 Arena.
(embed)https://www.youtube.com/watch?v=al_7Q_pxpxA(/embed)