10:16 PM


Saturday, January 21, 2023

Books – Ahmed Massad:
The Meteorological Authority revealed details of the weather for tomorrow, Sunday, January 22, 2023.
And the meteorologists said, in a statement: "Cold weather prevails in the early morning in most parts, moderate temperature during the day in Greater Cairo, Lower Egypt, the northern coasts and northern Upper Egypt, with a tendency to warmth in southern Sinai and southern Upper Egypt."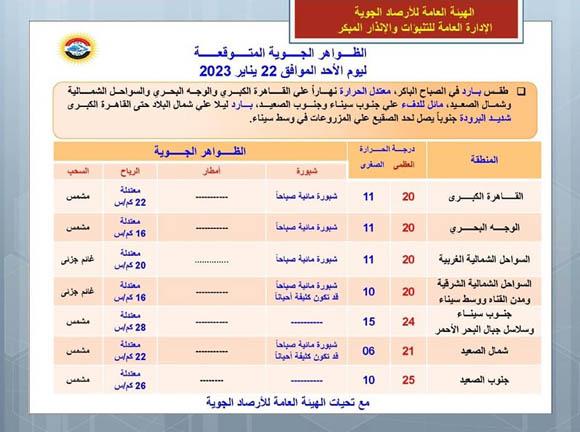 Cold weather prevails at night in the north of the country up to Greater Cairo, very cold in the south and reaches frost on crops in central Sinai.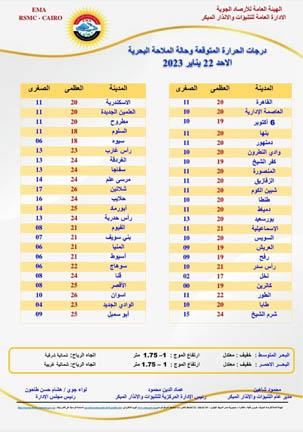 The maximum temperature in Greater Cairo is 21 degrees, with mist in the morning and sunny weather, and the maximum temperature in Lower Egypt and the canal cities is 21 degrees, with mist in the morning that may be dense at times, and a sunny weather, and on the northwestern coasts it reaches 20 degrees. On the northeastern coasts and central Sinai, it will reach 21 degrees.
Cairo: 11-20
Administrative Capital: 20-10
Alexandria: 20-11
Sharm El-Sheikh: 15-24
Aswan: 26-10
Arish: 9-19
Rafah: 9-19
Catherine: 19-00