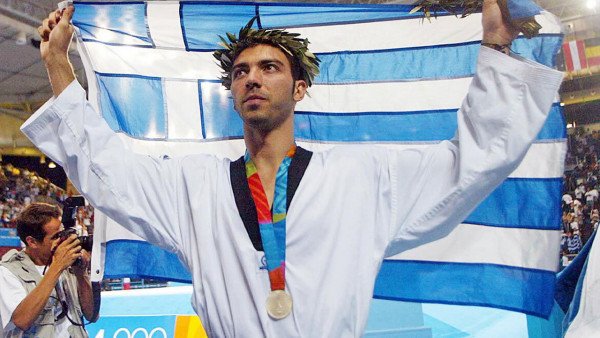 The Olympian
Alexandros Nikolaidis
passed away, saying goodbye to everyone with a heartbreaking message on his personal social media accounts. The Tae Kwo Do Olympic champion and deputy press representative of SYRIZA, passed away prematurely defeated by a rare type of cancer, the
Carcinoma Nut
. In consultation with his family, he posthumously posted a message explaining some of what he went through over the past two years. As it turns out, few people knew of the struggle he was fighting, and he himself kept his health a secret. Although he had chosen to spend his last days at home, he was admitted to hospital yesterday and passed away overnight. He was born on October 17, 1979, studied physical education at AUTH and had a brilliant career in Tae Kwo Do, with medals even in the Olympic Games.
His shocking post reads: "I'll start with this cliché, that for you to be reading this post of mine right now, I've probably left for somewhere better or nowhere. For two years, I also suffered with cancer. With such a rare type of cancer, nut carcinoma, that currently nine out of ten Greek doctors who read it, are hearing it for the first time and will rush to look it up. Fortunately, my own doctor, the wonderful Yannis Bukovinas who took me by the hand on the most difficult journey of my life, knew this rare guy and did everything to save me or give me a little more life. He moved heaven and earth, to bring medicines literally from the other side of the earth for me to try.
Two years I never said "Why me"? There is no more selfish thought than this. It happens to someone, to our neighbor, to our fellow man. And now it happens to many. If I put a sign of luck in my life, I will tell you even now, that I was a lucky man. I was blessed to make my dreams come true, to stand on the podium many times, to glorify my sport and my country, to meet people from all over the world, to learn respect, noble rivalry, values ​​that are so important and try to I also put them into practice in my life.
I was lucky enough to be loved by the most wonderful woman in the world, my gift from God, as her name is, and to have a beautiful family. So even in this misfortune that found me, I said thank you, that if this was meant to come to my family, it did not find her or my children. I had to climb this mountain, I had to carry this burden. Not them. On this difficult journey, I was lucky because I had the solidarity and care of so many people as my companion, that many times I wondered what I did to deserve all that they selflessly offered me. First my doctor, Mr. Bukovinas, the rector, Mr. Dimopoulos, who helped so much in the first phase of my illness but also later, in getting every treatment as quickly as possible. Mr. Iliadis my thoracic surgeon, an excellent scientist who hugged me like a father during my very difficult lung surgery, Mr. Peios, the neurosurgeon who relieved my horrible pain and many, many others, from nurses to paramedics, all my they showed their love and this love gave me strength.
And finally, I want to dwell on the man with an alpha capital, Alexis Tsipras, he came into my life very recently and gave me his friendship, his thought, his fraternal care, as if he had known me forever. He proved to me that everything he and the left stand for is a real life stance. He supported me morally and practically and he also did his best to give me the best care. I want to tell everyone something. You succeeded. You kept me alive longer than my very aggressive cancer gave me the gold medal of prolonging my life at a very critical time when my daughter Eleanna was only 3.5 years old and wouldn't remember anything about me, while now at 5.5 years old she will remember me at least as a distant memory and she will be able to tell stories to her little brother George so that they will keep me alive in their hearts forever.
My friends, in this life where we are all transients, what matters most is what footprint we leave, not how or when we leave. For this reason, if I am the first registered patient with nut carcinoma in our country, let me be the reason for informing doctors and patients about this type of cancer which, if diagnosed in time, may save lives. Let's be the occasion to essentially strengthen our national health system that has been so underestimated in recent years, not to wait in queues for an X-ray, for a chemotherapy or an operation and to lose precious time, to stop the time-consuming labyrinth of bureaucracy and legal EOF bottlenecks when potentially life-saving experimental drugs need to be approved immediately.
If we come into this life for a purpose, I have decided what it will be. To offer hope through what I have achieved in my life, from the good to the bad. For this reason, my two Olympic silver medals, from Athens and Beijing, which I have been hiding well for years, it is time to come out and return to where they belong, to universal values. My last wish is for these two medals to be auctioned and the amount collected to be given to structures for children chosen by my family. If even one child is saved, it will be worth every kick in the head, every broken leg. This is the imprint I want to leave on society, this is the legacy I want to leave to my children».
//consent check first var enternity_consent = $.cookie("enternity_consent"); var enternity_consent = true;
if(enternity_consent===undefined){ fbq('consent', 'revoke'); //console.log('fb revoke'); } else { fbq('consent', 'grant'); //console.log('fb grant'); }
fbq('init', '997509706965212'); fbq('track', 'PageView');
*/