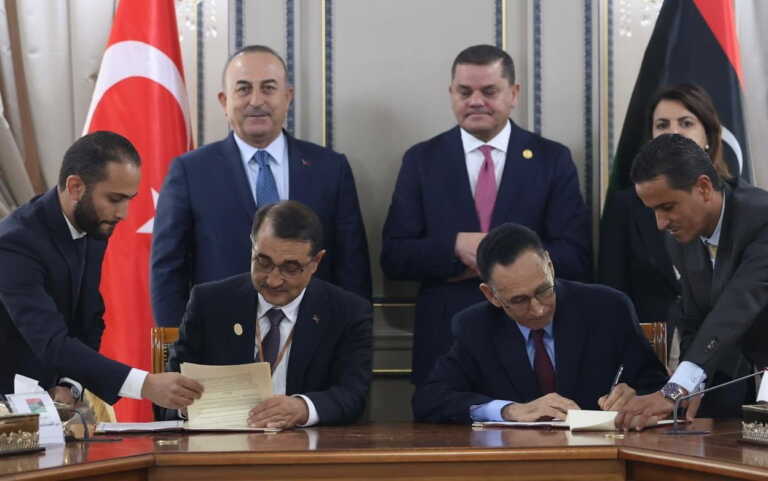 Athens calls it "inactive and dead", the international community does not recognize it and… half of Libya rejects it. What does the second illegal memorandum, which was signed by half of Turkey's cabinet found in Tripoli, actually provide?
The Libyan News Observatory attempted a first "reading" of the provisions of the new illegal memorandum of Turkey with the side of the interim Prime Minister of Libya Abdulhamid Dbeiba.
According to the translation published by Daily Cyprusthe "memorandum of cooperation on hydrocarbons" signed by Turkey and Libya includes:
Cooperation in projects of development and use of hydrocarbon resources (natural gas and oil).
These projects may concern the exploration, production, transportation, refining, distribution and trading of hydrocarbons.
Production and trading of oil, natural gas, petrochemicals and refined petroleum products.
Ensuring the exploration, development and increase of hydrocarbon production on both sides.
The two parties agree to ensure the implementation of comprehensive projects to enhance the exploration of land and sea resources.
Projects include development and production.
The Libyan Foundation invites the Turkish Petroleum Corporation and its partners to participate in land and sea projects in Libya.
Libya guarantees the conclusion of agreements and contracts with the Turkish Petroleum Corporation for the execution of oil operations.
The two parties encourage the Libyan Oil Corporation and the Turkish Petroleum Pipeline Corporation to establish joint partnerships in the hydrocarbon sector.
The two parties cooperate and support the use of exploration and drilling vessels used by Turkish Pipeline Corporation and its partners to explore, develop and produce current and future onshore and offshore hydrocarbon resources in Libya.
The two parties agree to cooperate in the development and operation of existing or additional oil and gas pipeline systems in Libya.
The parties must support the implementation of projects by the Turkish Pipeline Corporation and its partners.
This MoU may be terminated by either party at any time upon 3 months' written notice.
The termination of this Memorandum of Understanding does not affect the activities and projects already underway or implemented.
The memorandum is written in Turkish, Arabic and English, and all texts are considered equally authentic.
In case of any difference in interpretation, the English text shall prevail.
The article Turkey-Libya Agreement: What the new illegal memorandum provides was published in Fourals.com.