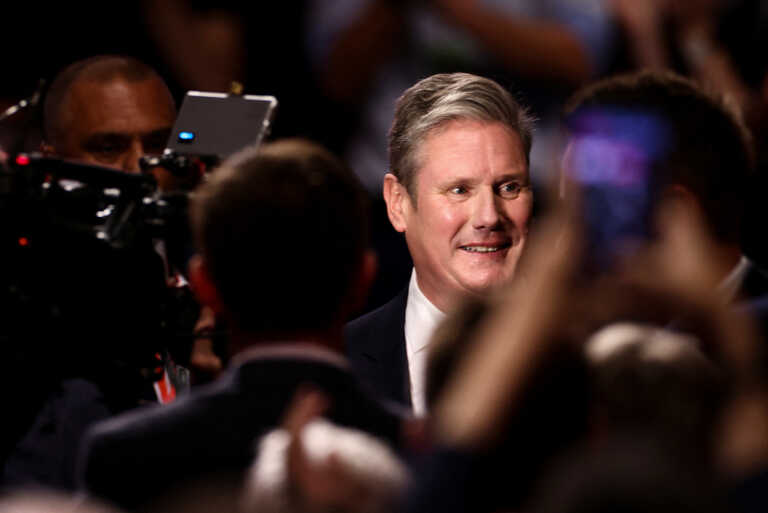 The difference between the Labor Party and Britain's Conservatives exceeded 30 percentage points, according to a new poll by the YouGov institute that saw the light of day today (29.9.2022).
In the wake of turmoil in stock markets over the Conservative government's planned tax cuts in Britain, the poll gives Labor its biggest-ever lead and the party's biggest win in any poll since the late 1990s.
Earlier today, British Prime Minister Liz Truss defended her controversial plan to grow the economy after the government's massive tax cuts sent shockwaves through financial markets and hit sterling and government bonds.
In particular, in the YouGov voting intention poll, 54% chose Labor compared to 21% who supported the Conservatives. The survey was conducted the previous two days with the participation of 1,712 adults.
In an earlier YouGov poll this week, 45% backed Labor compared to 28% who backed the Conservatives.
Three other polls, published today, also showed a wide Labor lead: +21% (Survation), +19% (Deltapoll) and +17% (Redfield & Wilton Strategies).
"Opportunity after 4 consecutive defeats"
Liz Truss became Britain's prime minister on September 6 after securing the leadership of the ruling Conservative Party following the resignation of Boris Johnson. The next national elections will be held, barring unforeseen circumstances, in 2024.
The leader of the official opposition, Keir Starmer, said a few days ago at the annual conference of the Labor Party that the next election is an ideal opportunity to take over the government of the country, after four consecutive electoral defeats.
Source: APE – MEB
The article 'Crush' of Conservatives gives new poll in Britain – 33% lead for Labor was published in Fourals.com .