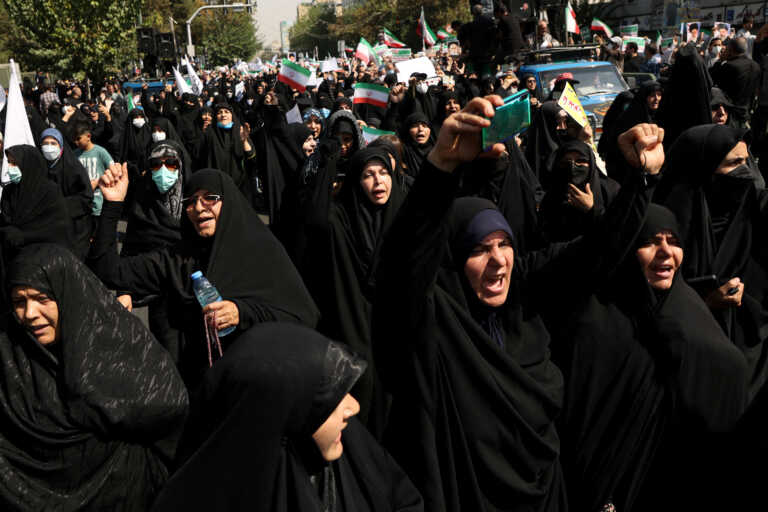 Iran's President Ebrahim Raishi says pro-government protests in the country today (23.9.2022) show the power of the Islamic Republic, after days of unrest over the death of a young woman who was arrested by the country's morality police.
"The presence of the people (in the marches) today is the strength and honor of the Islamic Republic," Iran's president said of the protests in a live telecast after returning from New York where he attended the United Nations General Assembly .
State-organized protests were held in several Iranian cities today to address anti-government unrest, with protesters calling for the execution of those involved in the anti-government protests.
Mahsha Amini, 22, from Kurdistan province, was arrested on September 13 in Tehran where she was visiting with her family "for wearing inappropriate clothes" by the morality police, a unit tasked with enforcing the country's strict dress code. .
She died three days later in hospital and her death sparked a huge wave of anger and the worst protests to have taken place in Iran since 2019.
Antonio Guterres raised human rights issues
UN Secretary-General Antonio Guterres met with Iranian President Ebrahim Raisi in New York on Thursday and raised human rights issues, a UN spokesman said today.
The UN is concerned "about reports of peaceful protests being met with excessive use of force leading to dozens of deaths and injuries," spokesman Stefan Durajic told reporters.
"We call on the security forces not to use unnecessary or disproportionate force and appeal to all to exercise restraint to avoid further escalation," he added.
Source: APE – MEB
The article "Pro-government protests show Iran's strength", says Ebrahim Raishi, was published in Fourals.com.