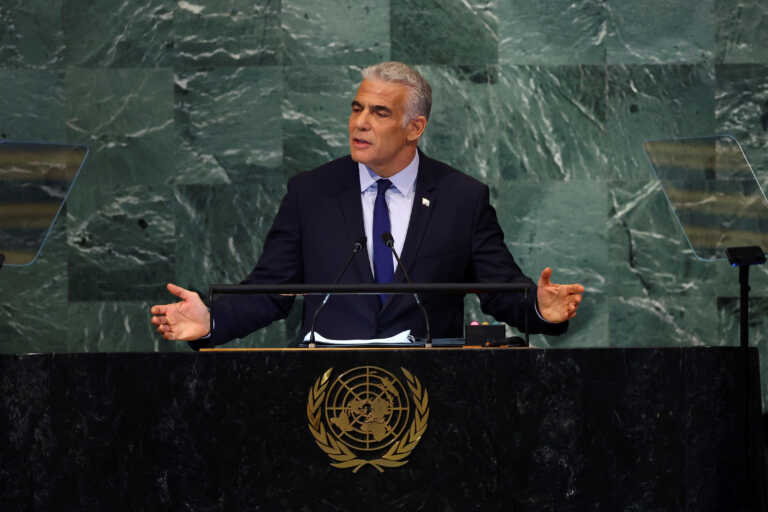 Israeli Prime Minister Yair Lapid yesterday (22.09.2022) referred to his daughter who has autism during his address to the 77th UN General Assembly.
"I have a child with special needs. Her name is Yaeli. She is autistic. He is not talking," the Israeli prime minister told the UN Assembly.
He referred to it to address the 11-day war between his country's armed forces and Palestinian armed groups in the Gaza Strip in May 2021, when rockets were fired at Israeli territory from the enclave ruled by Hamas.
Israel engaged in an 11-day lightning war with Hamas and other Palestinian armed groups that month. From May 10 to 21, 260 Palestinians were killed in Israeli strikes in the Gaza Strip, including militants, according to local authorities, while in Israel, rocket fire from Gaza killed 13 people, including a soldier, at the police and the army.
Yair Lapid recalled a rocket attack on Tel Aviv during which he had to take his daughter to a shelter. "I had to wake her up at three in the morning so we could run to the shelter, explosions could be heard above our house," he said.
"Everyone who preaches to us about the importance of peace is welcome to try rushing to the shelter at 3 in the morning with a non-speaking child. To explain to him, without words, in sign language, why some are trying to kill it."
He added that he has been repeatedly asked why Israel does not lift the blockade it has imposed on the Gaza Strip for over fifteen years. "We are willing to do it – tomorrow morning. And more than that," he said. Israel is willing to contribute to building a better life for Palestinians in the Gaza Strip, a densely populated enclave of 2.3 million people, he assured, but "on one condition: Stop firing rockets and missiles at our children."
The article "I had to explain to her in sign language why some people are trying to kill her" – Lapid spoke about his autistic daughter at the UN was published in Fourals.com.