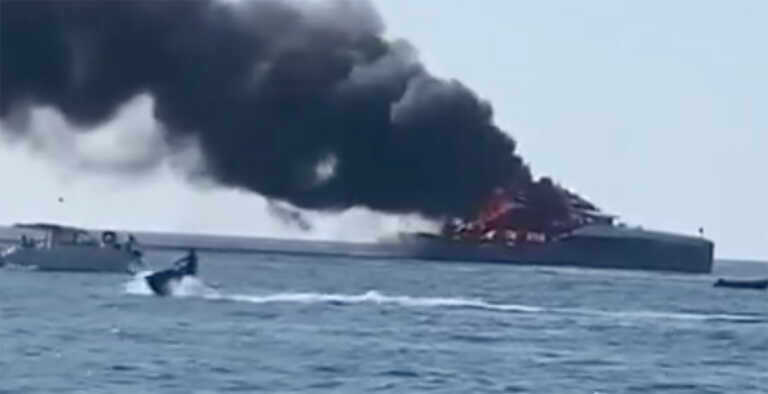 A £20 million luxury yacht owned by an Italian businessman has gone up in flames near the Spanish island of Formentera. The videos that have been released show the flames and black smoke "disappearing" little by little the expensive yacht.
The 150-foot super-luxury Aria SF caught fire Thursday afternoon off Cala Saona, on the west coast of Formentera island in Spain, just a month after it was delivered to its owner, Paolo Scudieri.
Nine passengers and seven crew members were on board when the fire broke out and all were rescued safely by two Spanish coastguard vessels.
Recently Delivered Aria SF Luxury Superyacht Catches Fire in Spain https://t.co/xUokKtn2hj pic.twitter.com/h58v2fsF0K

— Flyin18T Motorsports (@Flyin18T) August 12, 2022
The superyacht that caught fire, which had a swimming pool, five bedrooms and a gym, was due to make its official debut at this year's Cannes Yachting Festival and an investigation into the cause of the fire has been launched.
The yacht's 62-year-old owner, Paolo Scudieri, is the chairman of interior car parts maker Gruppo Addler, which was founded by his father in 1956, and is said to be worth nearly €500 million.
Paolo Scudieri's 45 meter long Aria SF yacht is on fire in Formentera. It is a luxury boat valued at more than €20 million and launched this year.https://t.co/tXrLbUOvhP pic.twitter.com/NnItNn4yjQ

— NIPORWIFI © (@niporwifi) August 11, 2022
A spokesman for the Spanish coast guard, speaking after the fire was extinguished late on Thursday, confirmed: "Seven crew members and nine passengers are all safe. They were taken to a police boat. The fire is almost out.
"Two coastguard vessels, the Salvamar Acrux and the Guardamar Concepcion Arenal, were mobilized from our coordination center in Palma, Majorca, after an alarm was raised at around 5pm. yesterday/Thursday'.
The article Spain: Italian tycoon's luxury yacht engulfed in flames was published in Fourals.com.