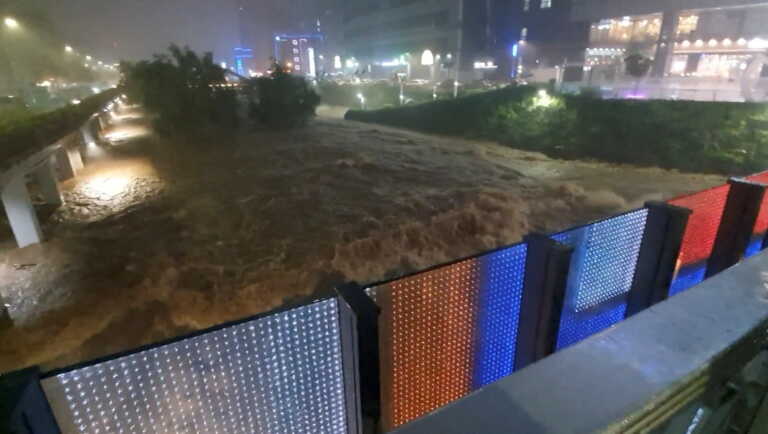 Torrential rains occurred in South Korea, specifically in Seoul, flooding streets, houses and subway tunnels, while at least 7 people have already lost their lives.
The southern part of Seoul has seen rainfall exceeding 100 millimeters per hour since Monday night, with local rainfall reaching 141.5 millimeters, the heaviest in decades, according to South Korea's meteorological agency.
In total by 05:00 (local time) rainfall had reached 420 mm and more was expected.
In the densely populated district of Gangnam, buildings and shops were flooded and without power. Cars, buses and subway system galleries were covered in water. Many residents were excluded.
At least five people died in Seoul and two others in the surrounding Gyeonggi province, according to the disaster management agency. The four died when they were trapped in flooded buildings, one of the victims is believed to have been electrocutedone person was found dead under the debris of a bus stop and another was swept away when it hit the site of a landslide, according to the same source.
At least nine people were injured and nine are missing.
The disaster response agency raised the alert level to the highest level. The meteorological service has issued an emergency warning for the risk of extreme weather in the metropolitan area of ​​the capital (26 million inhabitants).
President Yoon Seok-geil presided over a meeting of disaster response agencies and instructed authorities to prevent further loss of life and control the situation in the flooded areas as soon as possible.
The meteorological service expects the heavy rains in the central part of the country to continue until at least tomorrow Wednesday.
Although South Korea often experiences sudden and severe storms during summers, "such a sharp increase in precipitation and frequent torrential rains cannot be explained" unless "the big trend, climate change" is taken into account, a South Korean official said. weather service at the Reuters news agency.
The article South Korea: Unprecedented rainfall in Seoul, subway flooded – At least 7 dead was published in Fourals.com.