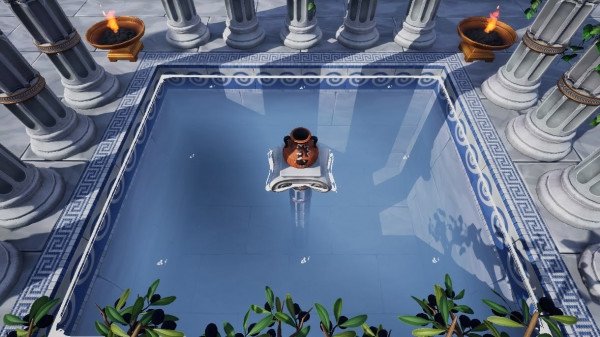 In a 4-man arena, your mission is to emerge victorious by sinking the ships of your 3 opponents. We present it to you
Room Frame
, a fast-paced action game from Greek creators. It takes place in a 3D graphics environment and features a stylized UI & HUD. In addition, it offers 4 different maps to try, several combat mechanisms and of course 4 game modes to play with your friends and create incredible moments of laughter.
The game's production team, Purple Cow Studios, earlier today posted the game's official Release Trailer on their YouTube channel. In less than 40 seconds he presents all the important parts of the game and describes exactly what fast-paced mayhem is. Watching the trailer, we notice that it presents all the details about Rum Ram in a very fast way while all the content ties in with a nice upbeat music from the game's soundtrack.
Rum Ram is currently available on Steam and has been created with the Unity 3D graphics engine. In addition, it is compatible with all available controllers on the market. The company behind the game is Purple Cow Studios based in Athens. Key members of which are the brothers Pavlos Alifragkis (Lead Designer) and Andriana Alifragki (Concept Artist), Apostolos Bouzalas (Network Programmer) and Pavlos Gounaris (3D Artist). The team is supported by Alexander Gorbenko and Theofanis Gavrielidis as Marketing Directors. It is a small indie game studio that is preparing to open its own offices in Athens in the near future.
Rum Ram provides multiple forms of entertainment, ie it has 4 different game modes which are available on all maps. Players have the option to play Deathmatch, Team Deathmatch, One-Shot and Time Bomb. Each one offers different possibilities, however, according to the developers, all of them are of great interest and can be a pleasant experience for all members of the family.
Rum Ram is currently available on the Steam platform and retails for €6.59.
As we were informed by the developers, updates have already been planned that will contain additional content, new features and the addition of multiple languages. You can support their effort by clicking on the image below which will take you to the Steam Page.
//consent check first var enternity_consent = $.cookie("enternity_consent"); var enternity_consent = true;
if(enternity_consent===undefined){ fbq('consent', 'revoke'); //console.log('fb revoke'); } else { fbq('consent', 'grant'); //console.log('fb grant'); }
fbq('init', '997509706965212'); fbq('track', 'PageView');
*/