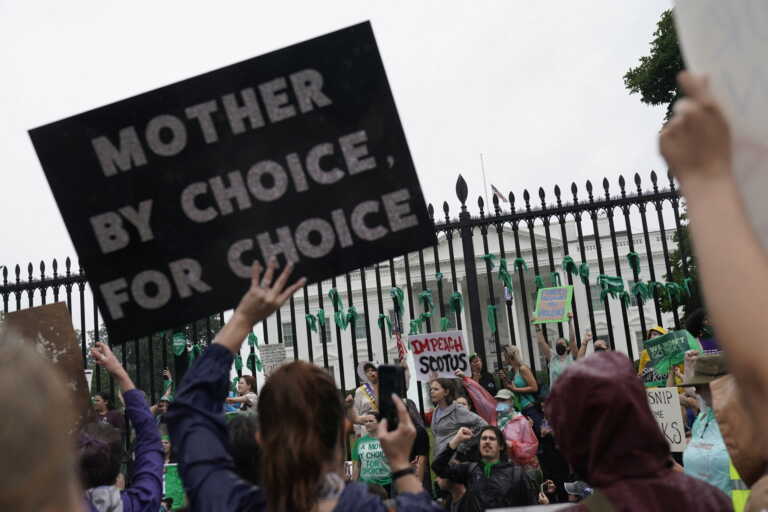 A massive demonstration took place outside the White House on Saturday night (7/9/2022) calling on Joe Biden to stand up for abortion rights. With slogans like "Biden, wake up!" about 10,000 people demonstrated for women's rights.
Chanting "my body, my choice" and "we're not going back", the protesters, mostly women, marched through the streets of Washington and reached the White House. Some even tied themselves to the railings around the building. According to the organizers of the protest, 10,000 people from all over the US gathered in Washington for women's right to abortion.
But Joe Biden was not there, spending the weekend at his home in Delaware.
That didn't stop Becca, 37, who did not want to give her last name, making the two-hour drive to protest.
What does he expect from the 79-year-old president? "To sort it out!", he replies. "I don't want the world my grandmother lived in."
"The decree he announced is not enough," Becca assessed, referring to the text signed on Friday by the American president, which contained some limited measures for access to abortion.
Lauren Pierce, 33, a lawyer from Dallas, was also among the protesters and traveled 2,100 kilometers to Washington.
"For me nothing is worth more than fighting for this cause, our fundamental right to have the autonomy of our bodies," he underlined.
The state where Pierce lives, Texas, is one of 10 that already bans abortion. At least 12 more states are expected to follow suit after the Supreme Court announced in late June that it was overturning its landmark 1973 decision that established women's right to abortion nationwide.
After the Supreme Court's decision, Biden faced accusations that he is not acting decisively enough to protect this right for women.
He counters that his powers are limited and that the best way to ensure abortion rights, even in conservative states, is to adopt federal legislation. To do that, Biden explained, Americans would have to give Democrats a large majority in November's midterm elections.
"We know there are limits to his power, but we want him to push that power to its limits," Rachel O'Leary Carmona, executive director of the Women's March, said, considering that Biden's order was an important, first step.
But many abortion rights activists believe the Biden administration has failed to rise to the occasion following the Supreme Court ruling.
"We ask President Biden to continue to take action to protect abortion at the national level," Carmona added. "And if he can't do anything more behind his desk, he should take to the streets" to demonstrate, he stressed.
"This is the first time we have been denied a constitutional right," said 56-year-old Ellen Miller of Virginia. "We are here for our daughters, our children, our lives."
In the US, about 40 million women of childbearing age are expected to lose access to abortion in the coming weeks.
The article Mass pro-abortion demonstration outside the White House – 'Biden, wake up' was published in Fourals.com.