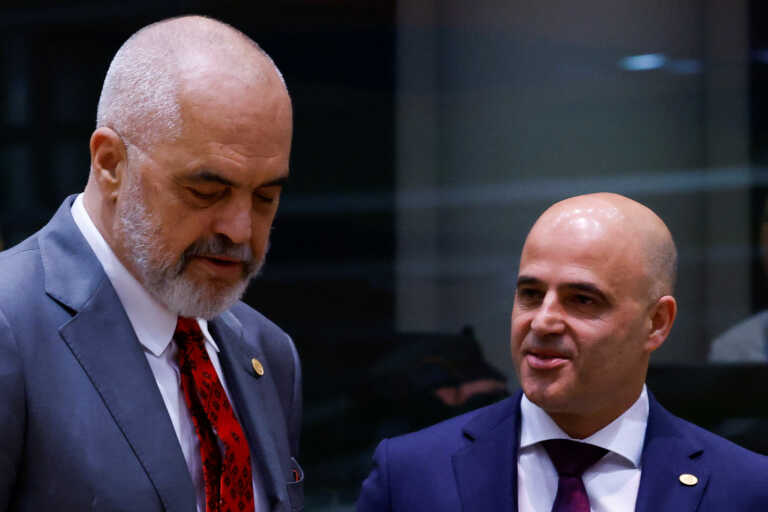 Who saw Eddie Rama and was not afraid of him! Albanian Prime Minister Attacks on Bulgaria Obstructing Northern Macedonia's EU Accession and consequently in Albania!
The tweet posted by the Prime Minister of Albania, posing smiling with his counterpart from Northern Macedonia, Dimitar Kovacevski, was at the same length as his statements when he arrived at the EU Summit. – Western Balkans in Brussels: angry against Bulgaria! Eddie Rama spoke of parody.
"Are you still waiting for Gondo?" "No, we are accustomed to this parody and we are more committed than ever to promoting the modernization of our countries and our region with an unwavering European spirit," wrote Eddy Rama.
Still waiting for Godot? No, we are used to this charade and we are more then ever committed to push forward our countries and our region modernization with unwavering European spirit pic.twitter.com/bmxXK8WXbc

– Edi Rama (ediramaal) June 23, 2022
In his statement, when he arrived at the Summit he was even tougher against Bulgaria! "Bulgaria, a NATO country, is holding two other NATO countries hostage and that is a shame," he said.
"I do not expect good news today," he admitted, recalling that Northern Macedonia has been a candidate country for 17 years and Albania eight. "Welcome Ukraine! "The status of a candidate country is good, but I hope the Ukrainian people do not have illusions," was his bitter and ironic statement.
Rama also said that, despite the obstacles that Bulgaria puts in the process of Northern Macedonia and consequently in Albania, the two countries do not change their course. "We are continuing the reforms and building Europe at home."
Northern Macedonia and Albania are waiting for the green light from the EU to start accession negotiations. The process continues to be blocked by Bulgaria, which is mired in a new political crisis, following the vote of confidence the government lost in yesterday's vote in Parliament.
The article Rama's savage crack in Bulgaria: We are used to this parody was published in Fourals.com.