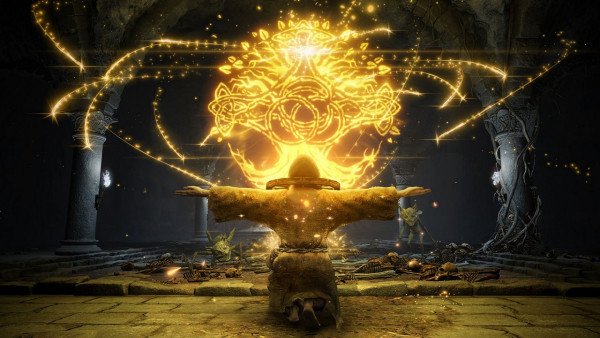 YouTuber MythyMoo posted a video with an unknown and invisible boss that he accidentally found on
Elden Ring
, thanks to a randomiser mod. This mod shuffles the location of objects and bosses within the game map, which obviously affects its difficulty. Apart from that, he also mixes up the names of the bosses.
During the test of the mod, MythyMoo passed through Consecrated Snowfield, an area with various bosses patrolling. Where Night's Cavalry is usually located (one of the bosses spotted more than once) there was no boss. At least apparently. MythyMoo set out to find the boss to whom the mod would assign him and after a while health the health bar of a boss named Night's Hunter appeared. Only Night's Hunter proved to be invisible. The streamer tried to deal with it even so, until a second boss appeared to cause confusion.
The prevailing theory as to who the invisible boss is is the Bell Bearing Hunter, a boss who normally appears through a red fog. The randomiser did not spawn this fog and thus did not succeed in triggering the Bell Bearing Hunter animation, which is why it "appeared" invisible. You can see exactly what happened through the video that follows.
Elden Ring is available for PlayStation 5, PlayStation 4, Xbox Series X, Xbox Series S, Xbox One and PC.
//consent check first var enternity_consent = $.cookie("enternity_consent"); var enternity_consent = true;
if(enternity_consent===undefined){ fbq('consent', 'revoke'); //console.log('fb revoke'); } else { fbq('consent', 'grant'); //console.log('fb grant'); }
fbq('init', '997509706965212'); fbq('track', 'PageView');
*/