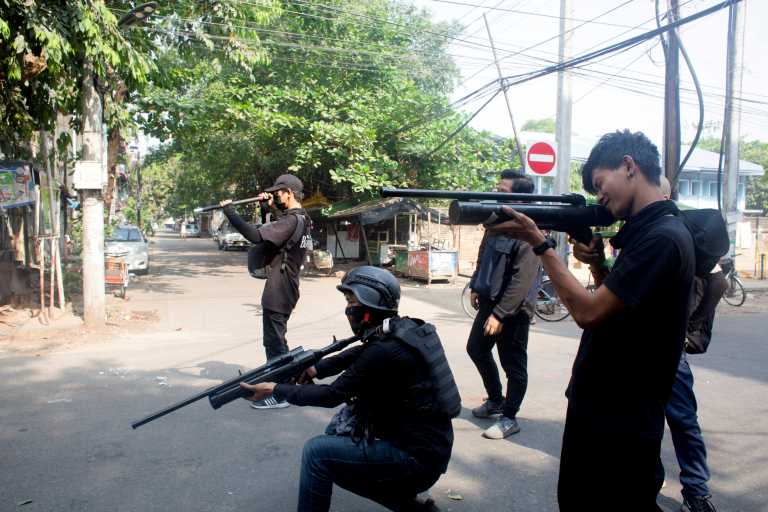 The Myanmar army set fire to hundreds of buildings during a three-day operation in the northern province of Shanghai, residents and local media reported.
Shanghai Province is the scene of violent clashes and bloody retaliation following the February 1, 2021 military coup in Myanmar. The local "People's Defense Force" regularly clashes with the army.
According to analysts, this militia has surprised the Burmese army with its effectiveness and the security forces have repeatedly carried out air raids in this area in order to support the ground forces fighting the guerrillas.
According to locals and local media, soldiers set fire to hundreds of houses over three days last week in Qin and Ke Taung villages.
The raid began on May 26. Soldiers stormed the villages, firing into the air, forcing residents to flee, said a resident who spoke on condition of anonymity.
"The next morning we saw smoke rising from our village before they left," he said. "More than 200 houses were completely burnt down. "Mine has been completely destroyed, only its cement foundations remain," he added.
Drone footage captured by AFP shows clouds of smoke coming out of these villages, which are located on the banks of the Qingwyn River.
AFP was able to confirm that these images show these villages and that they were not published before last week, but has not been able to independently confirm the testimonies of the residents. NASA satellite imagery also recorded the fires in Ke Taung and Qin villages last week.
The soldiers "destroyed our houses", complained a resident of Ke Taung who asked to use the nickname Ai Tin. "They also burned the boats we use for transportation and to bring food to our village," he added.
The junta in Myanmar has repeatedly denied that the army has set fire to houses, attributing these events to "terrorists".
The UN has already denounced the commission of "possible war crimes and crimes against humanity" after the coup. Nearly 1,900 civilians have been killed by security forces, including women and children. Nearly 14,000 have been arrested.
This is not the first time the Myanmar army has been charged with war crimes. In 2017, more than 750,000 members of the Rohingya Muslim minority were forced to seek refuge in neighboring Bangladesh to escape military persecution, with the United States calling his actions "genocide."
Source: ΑΠΕ-ΜΠΕ
The article Myanmar: The army allegedly set fire to hundreds of houses was published in Fourals.com.