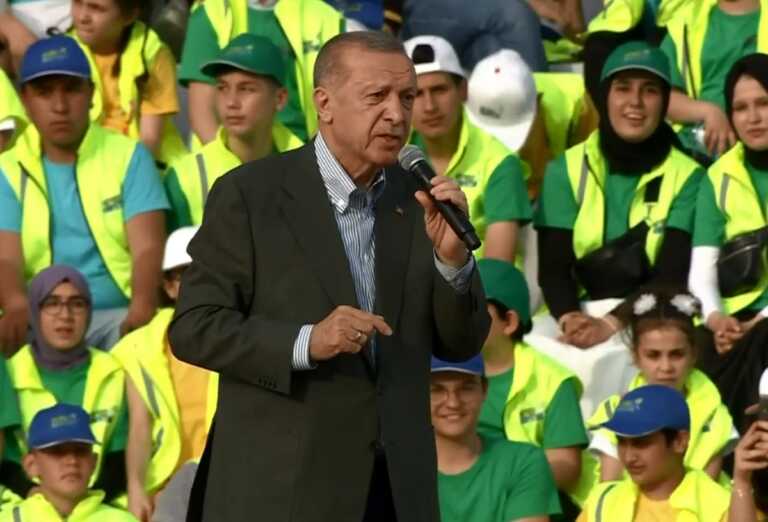 Recep Tayyip Erdogan was present at the celebrations for the 569th anniversary of the Fall of Istanbul, continuing the crescendo of challenges.
The fiesta took place at Ataturk Airport in the presence of 500,000 people, while a ceremony was held for the first planting of saplings in the National Garden of Ataturk Airport. The janissary band gave the rhythm as the crowd waved Turkish flags and cheered on the president and his wife Emine… The event included an air show by the selected air force squadron.
And all this a few hours after the personal attack he made on Prime Minister Kyriakos Mitsotakis.
According to what Erdogan said, more than 500,000 people are standing in front of him, mainly of the new generation, for which, as he stressed, he is very proud.
Erdogan placed special emphasis on the national goals he has set for the vision of 2053 for a strong and united Turkey.
"The Turks must be united and the national interests of the country are more important than politics. As our ancestors buried Byzantium, let us hope that today, by building our vision for 2053, we also manage to put in the time warp of history the current Byzantines who set up intrigues against us ".
He also referred to the war in Ukraine, saying that the situation between Russia and Ukraine must end. He wondered what Turkey should do about it and replied that it should stop the bloodshed. He also spoke about the Gaza Strip where there are bloodshed, as he said.
"We say stop in Libya, Syria, Iraq, the Mediterranean and the Aegean," he said, referring to the war in Ukraine as "stop in Crimea."
LIVE: Türkiye's President Erdogan attends 569th Anniversary Celebrations of Istanbul's Conquest and Ceremony for Plantation of First Sapling at Atatürk Airport Nation's Garden https://t.co/O2zCKCcdOZ

— PresserWatch (@PresserWatch) May 29, 2022
The fiesta was well-organized, with men in traditional Ottoman military uniforms standing in front of the podium where Erdogan was speaking. "Constantinople was the favorite city of the Prophet Muhammad and that is why it was conquered and" fell "from the hands of the Byzantines," he said.
Erdogan's article: "We will bury modern Byzantines – Let's say stop in the Mediterranean and the Aegean" was published in Fourals.com.