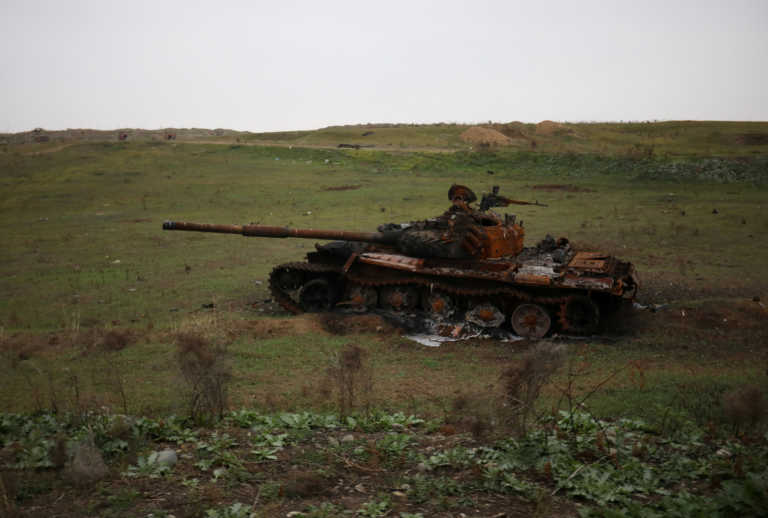 The leaders of Armenia and Azerbaijan have agreed in Brussels to move forward with talks on a peace agreement on Nagorno-Karabakh, an area where war broke out in the autumn of 2020 between the two countries.
Armenian Prime Minister Nicole Pasinian and Azerbaijani President Ilhan Aliyev had "honest and productive" EU-mediated talks in Brussels, Charles Michel said.
"The leaders agreed to move forward with talks on a future peace agreement on transnational relations between Armenia and Azerbaijan," Michel added in a statement.
The talks will begin "in the coming weeks," he said, adding that he stressed the importance of the two leaders taking into account "the rights and security of the Armenian people in Karabakh."
At the same time, there will be a "border committee meeting" in the coming days, which will discuss border demarcation issues and "the best way to ensure a secure situation".
In Nagorno-Karabakh, an area claimed by Armenia and Azerbaijan for thirty years, a six-week war broke out in the autumn of 2020 that killed more than 6,500 people before a ceasefire was declared in Russia.
Under the agreement, Armenia ceded to Azerbaijan territories it controlled after the first war between them in the early 1990s, while a 2,000-strong Russian peacekeeping force was deployed in Nagorno-Karabakh.
The ceasefire agreement, which was considered a national humiliation in Armenia, sparked anti-government protests, forcing Pasinyan to call early elections, which his party won in September.
However, the Armenian Prime Minister is still under pressure in his country, as the opposition accuses him of defeat in the 2020 war and that his recent statements indicate that he is very submissive towards Azerbaijan.
Protests have been staged in Yerevan in recent weeks, with Pasinyan saying the international community wants Armenia to "lower the bar" on its claims to Nagorno-Karabakh.
"Another EU meeting between Aliyev and Pasinian is scheduled for July or August," Michel said.
The article Armenia and Azerbaijan agreed on talks on Nagorno-Karabakh was published in Fourals.com.