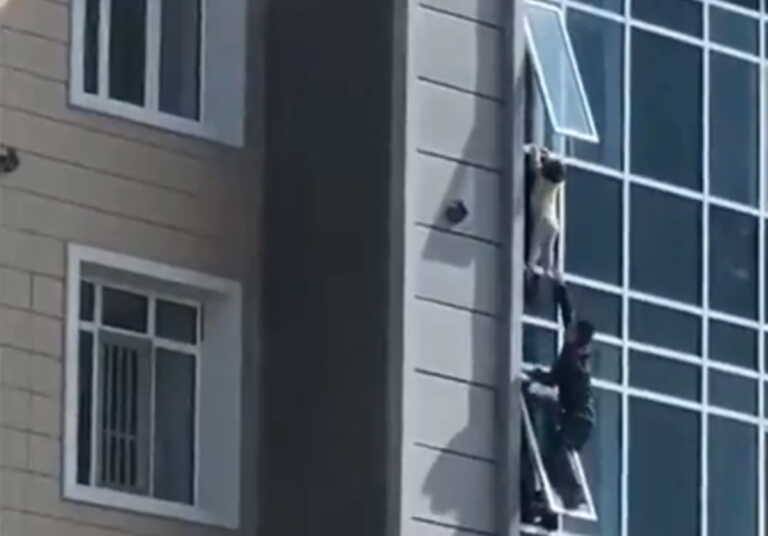 A 37-year-old man in Kazakhstan did not hesitate to hang himself from a window of an apartment building in order to save a 3-year-old girl who was barely holding on to the 8th floor window sill.
Sabit Sodakbayev, a father of four who lives and works alone in the Kazakh capital, became a hero within minutes as he managed to save a 3-year-old before falling from an apartment building window.
Specifically, according to the British Metro, the 3-year-old was left alone in the apartment of a high-rise building for a while, as her mother had been thrown out for shopping. However, the period of the mother's absence was long enough for the little one to pick up pillows and climb on the 8th floor window sill.
But the little one slipped and at the last moment she started to be caught and not to be in a vacuum. The child started shouting and several passers-by gathered at the spot.
The 37-year-old who was passing by wasted no time: He ran inside the building and knocked on the door of the apartment below that of the girl's family. He then climbed out the window to save the little girl.
Child's life saved in #Astana #Kazakhstan today by gentleman known as 'Sabit' it is understood the child was leaning against the window when it opened causing her to fall through a gap pic.twitter.com/Ic6p0Ld3YU

— Anonymous Archangel Network Media (Rawle95) (@AnonymousNetwo6) May 11, 2022
As he said: "I did not have a safety rope, and so my friend was holding my legs. "At that moment I was not thinking of anything, I just wanted to help the child."
In the video that travels around the world, Sodakbayev can be seen hanging from the window and catching the little girl who falls into his arms.
In fact, the 37-year-old left almost running so as not to be late for work: "I did not even see the girl's parents. I went straight to work with my boyfriend. Nobody knew what would follow. I saved the little one and left, and then they started calling me a "hero" in the news and on social media. I do not consider my actions heroic. "For me, everyone should help as much as they can in such cases."
According to information, for his heroic act, Sabit will be given a three-bedroom apartment, so that the 37-year-old can bring his family to Nur Sultan, which is left behind in Kizilorda province.
The article Kazakhstan: The moment when a 37-year-old rescues a three-year-old who was hanging from the 8th floor was published in Fourals.com.