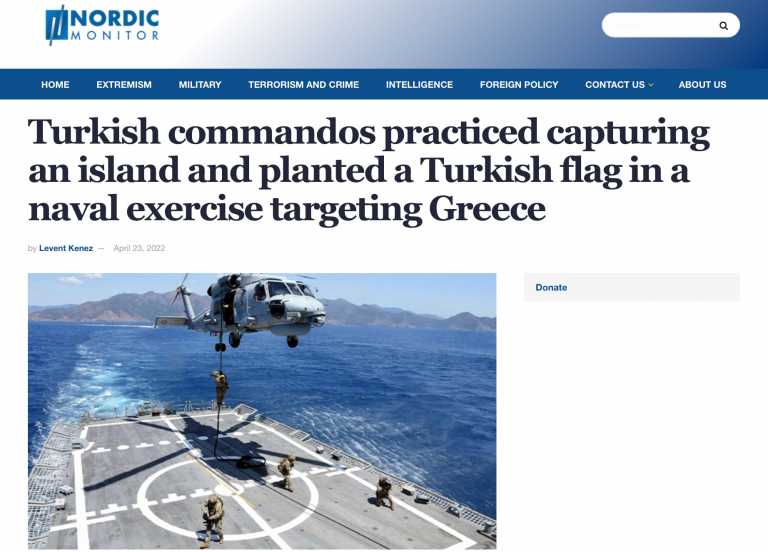 A fervent desire, a summer night…'s whatever you call it, one thing is for sure: Turkey does not have (or does not want to have) imagination in the scenarios of the "Blue Homeland" exercise.
As almost every year, this year too, Turkey, in the context of the "Blue Homeland" exercise, which was completed a few days ago, took out of its drawer the plan "landing on a Greek island".
The Nordic Monitor, by Abdullah Bozkurt, the self-exiled journalist and opponent of Recep Tayyip Erdogan, revealed the "landing" plan. Something similar had happened in 2020, the 2019 and 2018.
"According to the plan, submarine attack teams (SAT) attacked targets on the island of Yilancik near Marmaris. While one group fell into the water from a helicopter, another group approached the island underwater. The teams were accompanied by another team that parachuted to the island by helicopter. "After the groups destroyed the enemy targets, the Turkish flag was raised on the occupied island," it is noted.
"The naval exercise Blue Homeland took place simultaneously in the Aegean, Black Sea and the Eastern Mediterranean with the participation of 122 ships and 41 aircraft. Although the exercise covered three seas, it still underscores Turkey's continued focus on the Greek islands, as it did last year. "The fact that the imaginary enemy in business is Greece" confirms this ", the Nordic Monitor emphasizes.
Turkish commandos practiced capturing an island and planted a Turkish flag in a naval exercise targeting Greece https://t.co/Ve7cgpbnKx

— Nordic Monitor (@nordicmonitor) April 22, 2022
The Nordic Monitor also recalled the images with the students of the naval academy who wanted to swim the distance to Kastelorizo, to prove the statements of Hulusi Akar that the Greek island is closer to Turkey than to mainland Greece.
The same article recalls that some time ago, the Turkish defense industry Roketsan, presented its new missile with a simulation video targeting Greek islands. Experts who analyzed the images for the Nordic Monitor said that the location from where the rockets are fired at the video is the coast of Cesme in western Turkey and that the satellite map in the video has been reproduced with minor changes. They also state that the real islets and rocky images that appear visually in the video confirm that these are the coasts of Cesme. In this case, the place that appears as an enemy in the video is the Greek island of Chios, which is 4.1 miles off the Turkish coast.
Source: Nordic Monitor
The article Every year the same scenario in the "Blue Homeland": Landing of Turkey on a Greek island was published in Fourals.com.