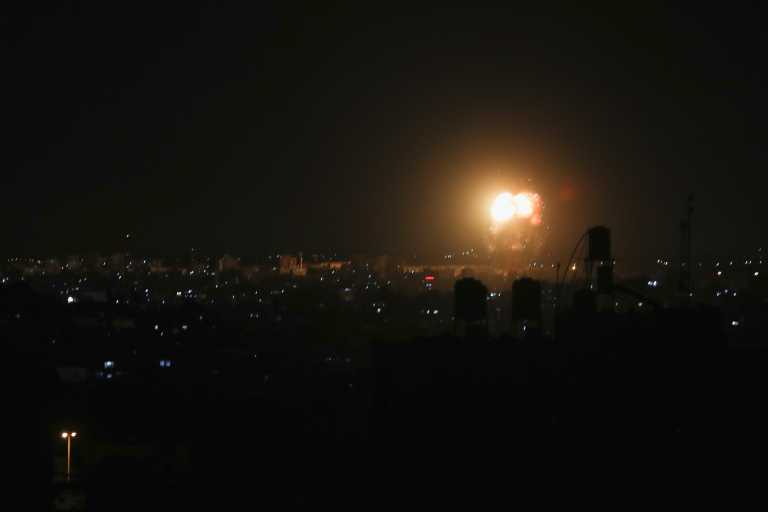 Israel launched new airstrikes in the Gaza Strip Monday through Tuesday night in retaliation for the use of incendiary balloons by the enclave, which resulted in wildfires in southern Israel.
"Aircraft hit a Hamas rocket launcher and a Hamas training camp in Khan Yunis, in the southern Gaza Strip, overnight," the Israeli military said in a statement.
The bomber struck shortly after noon in front of a police recruiting center at Kisak, killing at least 12 people.
According to a source close to the Palestinian security forces in Gaza, several rockets hit a training camp of Hamas's armed wing in the Khan Yunis area. Eyewitnesses reported that the Israeli artillery also hit points in the northern part of the small Palestinian enclave.
No casualties were reported, according to medical sources in Gaza.
On Monday, the Israeli fire brigade spoke of three fires in low-lying areas, mainly bushes, caused by balloons with incendiary devices coming from the Gaza Strip.
Cinematic escape from an Israeli prison
The strikes also followed the escape from an Israeli prison of six Palestinian detainees, most of them members of the Palestinian Islamic Jihad, which also operates in the Gaza Strip. Israeli forces deployed at checkpoints around the enclave on Monday to rule out the possibility of crossing, according to the Israeli military.
"The Zionist bombing of the Gaza Strip is an attempt by the occupation (Israel) to hide its inability and failure to face the struggle of our people, especially after the heroic operation in Gilboa prison during which "Six fighters of our people have regained their freedom," said Hazem Qassem, a Hamas spokesman, in a press release.
The government of the Jewish state blames Hamas for all actions against its territory from the pocket of two million inhabitants, which has remained under Israeli and Egyptian blockade for almost 15 years.
The Israeli Air Force has launched several similar raids in recent weeks. Tensions continue along the wall separating the Gaza Strip from Israel, where several deaths and dozens of injuries have been reported in incidents between the army and protesters.
Israel and Hamas were embroiled in an 11-day war in May. From May 10 to 21, 260 Palestinians were killed in Israeli strikes in the Gaza Strip, including several fighters, according to local authorities. In Israel, rocket fire from Gaza killed 13 people, including a soldier, police and army.
The article Gaza: Israeli airstrikes in retaliation for incendiary balloons was published in Fourals.com.