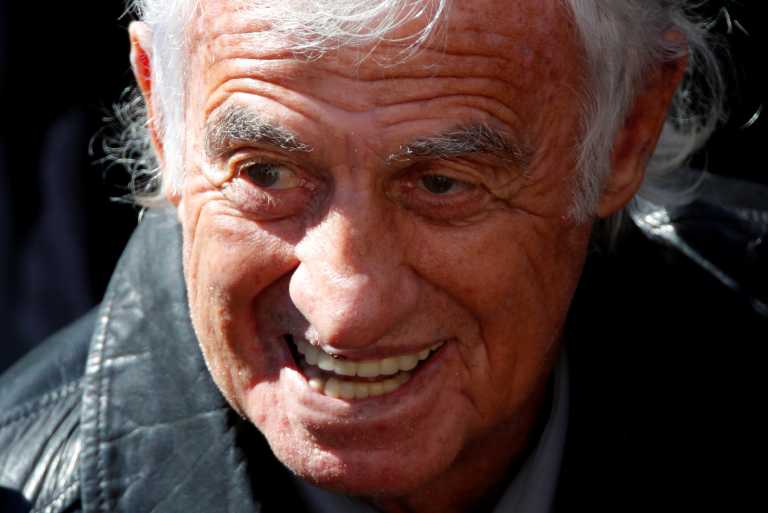 Actor Jean-Paul Belmondo has died at the age of 88.
Jean-Paul Belmondo was born on April 9, 1933, in Neuilly-sur-Seine, northwest of Paris, to an artistic family.
His career in acting
His first starring role came in 1958 with Les copains du Dimanche and after various collaborations, such as with director Mark Allegre on Crime in Place Pigalle (Sois belle et tais-toi, 1958) and The Last Date (Un drôle de Dimanche , 1958), Marcel Carné in The Zavoliares (Les tricheurs, 1958), but also his role as D'Artagnan in the TV movie The 3 Bodyguards, came the role that would make his name known in a movie that represented the "New wave".
Jean-Luc Godard, who until then had directed three short films, directed the famous 1960 Με bout de soufflé, in which Belmondo stars as a thug trying to escape from the police and finds refuge in a ephemeral love affair with an American woman.
Belmondo's role as Michelle established him as a style-icon and although the previous roles were few and Belmondo was just at the beginning of his career, this film established him as a "classic". With bated breath, he raised the fame of Godard and Belmondo and masterfully inaugurated the new school of cinematic thought that would become known as the Nouvelle Vague. French cinema had found its answer in the American James Dean. It is no coincidence that every text written about Jean Paul Belmondo begins and ends with a reference to Breathless.
Godard's debut was not the best role Belmondo ever played, but it was by far the film that decided that in the person of the then 27-year-old actor, the new French cinema had just discovered its first great hero.[9].
That same year, Belmondo starred in Vittorio de Sica's film The Shameless (La ciociara, 1960), which expanded its worldwide fame.
In 1961 Godard recruited him again for The Lady Wants Love (Une femme est une femme) and in the same year became the Pastor (Léon Morin, Prêtre) of Jean-Pierre Melville, earning his first BAFTA nomination for Best Foreign Actor. . The following year, he reunited with Melville to play Sillian, a police informant, in Le Doulos, a film diamond ranked by Empire magazine in the top 500 of all time. In the same year he was with Claudia Cardinale in the legendary comedy of Philippe de Broca Cartouche.
In 1963 he played with Jean Moreau on the Peau de Banane and was later reunited with Melville for The Adventurous (L'aîné des Ferchaux, 1963), where he played a young boxer as a bodyguard.
Trying not to be standardized, Belmondo starred in The Man from Rio (L'Homme de Rio, 1964) by Philippe de Broca, an Oscar-nominated comedy adventure that was a huge commercial success in France, starring Belmondo and her sister. Catherine Deneuve, François Dorleac. There Belmondo shows a shift from "Nouvelle Vague" to a more commercial trend, with comedies.
Away from the New Wave directors' directing instructions, Belmondo turned one film after another at a rapid pace, and gangster films, black comedies, light comedies, thrillers (like the Brock films of the time) were added to his filmography. having now made a clear turn to commercial cinema.
In 1970 he was again co-starring with Alain Delon in Jacques Dere's gangster Borsalino. In 1971 he was in Greece with Omar Sharif for the shooting of Henri Verneig's film The Caste (Le casse, 1971)[10].
In 1972, she starred in the black comedy Docteur Popaul by Claude Chambrol, starring Mia Farrow and Laura Antonelli, and portrayed Paul as an ex-wife trying to reconsider his views. believing that he should no longer trust beautiful women. In 1974 he starred in the drama Stavisky… by Allen Renee – who, although he was never an official member of the New Wave, his work supports it – where Belmondo found himself in one of the most anti-commercial works of his career as scammer businessman Alexander Stavisky.
The commercial failure of his latest film, made Belmondo seem reluctant to work with New Wave directors and look for more commercial films, again. Next step is Broca's The Adorable Old Man (L 'incorrigible, 1975), in which he reprises the petty crook, and the thrillers Terror over the City (Peur sur la ville, 1975) and In the Name of Violence (L' Alpagueur , 1976). He continued in the same motif and in 1979 starred in the comedy Flic ou Voyou, which was a great success, beginning a successful collaboration with director Georges Lautner, which was later continued with the films The Guy with 1000 Faces (Le Guignolo , 1979), The Professionnel (Le Professionnel, 1981), The Polygamous (Joyeuses Pâques, 1984) and the mystery film L'inconnu dans la maison (1992).
From the late 1980s, Jean-Paul Belmondo was a great dramatic and experienced actor, appearing more and more often on the stage. In 1987 he won the César Award for Best Actor for The Hunter of Adventure (Itinéraire d'un enfant gâté), having been awarded a few times in his life, despite the breadth of his career.
In the 1990s comedies like Désiré (1996) and Between Two Dads (1 chance sur 2, 1998) where he met Alain Delon again, continued, but at the same time he did more creative work, such as One Hundred and One Nights ( Les cent et une nuits de Simon Cinéma, 1995) by Anies Varda and the Miserables (Les Misérables) on the work of Victor Hugo, the same year.
He was now quite selective in his roles, although his career was interrupted by a stroke in 2001 and deprived him of the ability to speak fluently. He returned to the cinema as a living legend after seven years with Man and his dog (Un homme et son chien, 2008), portraying a homeless and elderly man wandering in Paris with his dog.
In 2011, the "ugly charmer" of French cinema was honored in Cannes with a special Golden Palm for his overall contribution to the seventh art, while on the occasion of his appearance and award, the documentary Belmondo… Itineraire by Bensan Perot and Jeff Domeh was screened. Philip de Broca's Magnifique (1973) and Henri Verneig's $ 100,000 in the Sun (1964). "Bell Bell", as his friends call him, called the special Golden Palm a "gift from God", as in the 53 years he worked in cinema (1956-2008) he was never honored with a major award (except for a Cesar).
The article Actor Jean Paul Belmondo died was published in Fourals.com.