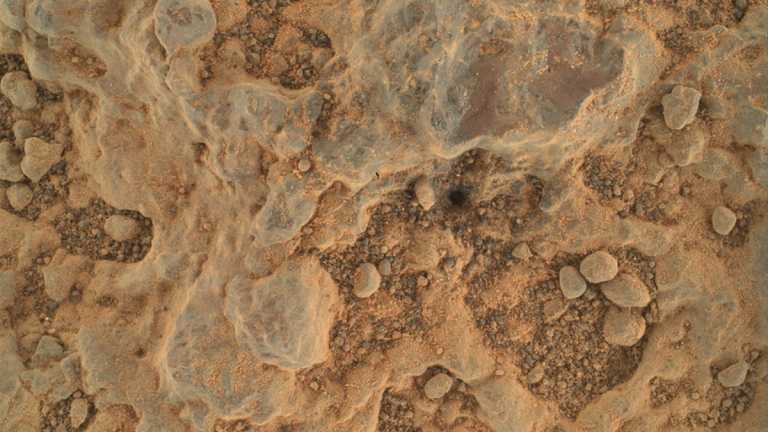 The US space agency (NASA) robotic rover Perseverance managed to collect a sample of Mars rocks with its drill. This was the second attempt, as the first – failed – took place last month.
If it is confirmed that Perseverance's attempt was successful this time around, as the first photos of the hole that opened in a large stone slab show, it will be the first stone sample to be robotically collected on a planet and then sent to Earth. without human intervention.
#SamplingMars is underway. I've drilled into my rock target, and my team will be looking at more data and images to confirm if we were able to get and retain an intact core.

Latest images: https://t.co/Ex1QDo3eC2 pic.twitter.com/OqezgznnPi

— NASA's Perseverance Mars Rover (@NASAPersevere) September 2, 2021
The car-sized rover, also known by the caressing nickname "Percy", which landed in February this year in Jezero Crater, an area that probably hosted a lake and river delta billions of years ago, is scheduled to collect dozens more samples in the next time. Scientists hope that when they analyze these samples, they will find traces of ancient microbial life.
Since reaching the neighboring planet, the six-wheeled rover, which has a 2.1-meter-long robotic arm with a drill on the edge, has traveled more than two kilometers, until it finds a rock called "Rosette", from where took a piece as long as a finger and then placed it in a titanium tube. Before the cylinder is sealed, the rover will re-photograph its contents and send it to Earth to be seen by scientists, to make sure they do not suffer the same "roar" as what happened in early August, when they were initially happy, but they finally realized that the sample inside the tube had become dust that fell back into Martian soil.
This time, however, according to the BBC and the New York Times, the first images are optimistic, as they clearly show that there is a piece of rock inside the pipe. "You can see a beautiful rock core inside the meditation tube," said Kenneth Farley, a professor of geochemistry at the California Institute of Technology (Caltech). However, there should be better photos of the sample inside the cylinder, which are expected to arrive on Earth on Saturday, so that the official confirmation from NASA that everything went well will follow.
Next step: drilling. I've checked out my new target rock from all different angles, and I'm ready to try again for my first core sample. #SamplingMars https://t.co/fFOqkM5Lsj pic.twitter.com/FbxmO6VUy2

— NASA's Perseverance Mars Rover (@NASAPersevere) August 31, 2021
The rover, after securing the valuable sample in its "belly", will continue its course, while the road in front of it detects the weight of only 1.8 kg robotic mini-helicopter "Ingenuity" of NASA, the first to fly to another and has already made 12 flights, each lasting about 20 minutes.
A similar helicopter-drone was developed by China, which published for the first time relevant photos of it, according to Reuters. Like the American one, it has two fins, a camera with sensors and four thin "legs". The Chinese helicopter will be used in future exploration missions to Mars, where the Chinese Space Agency first arrived in May this year (the second country after the United States to land on the neighboring planet). The big challenge for all drones on Mars is that it has a very sparse atmosphere, with a density of only 1% of Earth.
Perseverance has a total of 43 sample storage cylinders (1.3 by six inches each) and NASA hopes to fill at least 20 of them. At some point, the rover will deposit all these samples of Martian rocks at a specific point on Mars, from where after a few years – if all goes according to plan – another rover, which has not yet been built, will come to planet to collect them and transport them to a small rocket to travel to Earth, something that is expected to happen within the next decade through US-European space cooperation.
#SamplingMars update: first images show a sample in the tube after coring. But pics I took after an arm move are inconclusive due to poor lighting. I'm taking more photos in better light to confirm that we still have an intact core in the tube.

Read more: https://t.co/MqeD68KqYw pic.twitter.com/VYXErWrrEb

— NASA's Perseverance Mars Rover (@NASAPersevere) September 2, 2021
With information from ΑΠΕ-ΜΠΕ
NASA article: The Perseverance rover sampled from Mars rocks was published in Fourals.com.