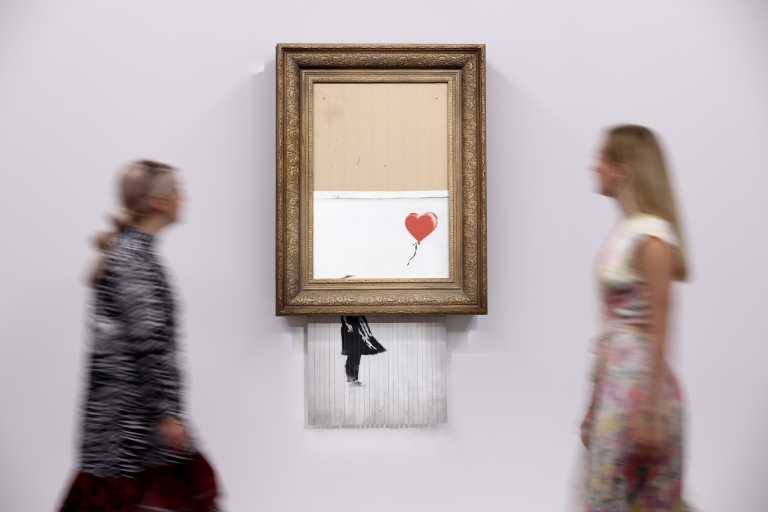 For sale on October 14 in London is again the painting of the British artist Banksy, whose self-destruction during its sale at auction in 2018 had caused a stir.
"The Girl with the Balloon", renamed "Love is in the Garbage", is estimated at 4 to 6 million pounds, according to a statement from Sotheby's.
The price that is expected to catch is four to six times higher than in the first sale to an unnamed collector who is preparing to make a very profitable move.
Then, seconds after it was sold, a document shredder hidden under the board destroyed the lower half showing a little girl holding a red heart-shaped balloon. At the end of happening, what was left of the board was just the balloon on a white background.
With this happening, which caused an earthquake in art circles, the mysterious street artist wanted to denounce the "commercialization" of the art market.
Sotheby's happening then spoke of the most spectacular artistic happening of the 21st century, placing it in the "legacy of anti-systemic art that began with the Dada movement and Marcel Duchamp".
"That surreal night three years ago, I happened to be the privileged owner of 'Love is in the Trash,'" the collector recalls. "But now is the time to break up."
Prior to that auction, graffiti "The Girl with the Balloon", painted in 2002 on a wall in south London, was considered a favorite of the British people.
Since then, Banksy's works have reached record prices at auctions. Last March, the "Game Changer", a work in honor of pandemic nursing staff, sold at Christies's auction for 16 16.75 million.
Source of RES EIA
The article Britain: Banksy's half-ruined work is auctioned at six times the price was published in Fourals.com.